Dr. Oz is America's Most Hatable Doctor
After years of researchers p-hacking medical results and the media breathlessly reporting dubious results unlikely to be replicated ever again, Dr. Oz has come under heavy criticism for doing the exact same thing. This criticism has come from the same media establishment that created him.
Likewise, a million diet fads were endured and breathlessly reported before the line was drawn at Vani Hari, the Food Babe. Harry believes ridiculous pseudoscientific things, like you should eat fewer heavily processed foods, avoiding chemicals that other developed countries have banned, and avoid ingredients whose names you can't pronounce and whose origins you can't deduce.
This is the same media that once regularly played on the same fears to sell themselves, oftentimes with respect to the same exact chemicals. My very first search result for this post sent me to this NPR piece that attempts to implicate food dyes in the hyperactivity of children. It includes (1) an unsubstantiated anecdote about what one mother said she saw in her kids, (2) a soft-sell of "elimination diets" (NPR includes the quotes around the term so you know they are being "objective"), and (3) a reference to the more-enlightened Europeans who require labeling of artificial dyes. Each of these are the type of evidence that the Food Babe uses. The only difference is that the Food Babe connects the dots and says don't eat these things while the NPR piece only strongly implies that you are poisoning your children if you let them eat these things.
Here is an article in The Atlantic titled "The Toxins That Threaten Our Brains". No, that's the real title. The accompanying image is of a halved apple with a skull and crossbones in the center. No, that's real too. Click the link and see.
Speaking of images, take a look at this one they include: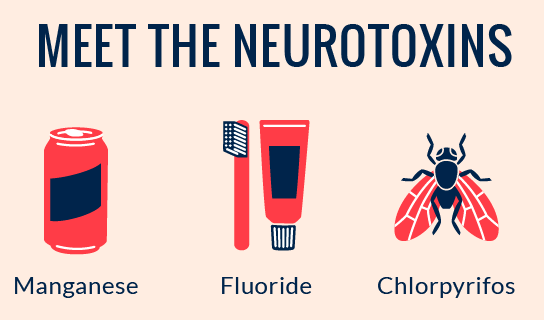 Notice that one of those items is fluoride? That's the chemical that League contributor Russell Saunders supports adding to drinking water. As Russell says,
I am a small part of one or more nefarious schemes to poison or sicken innocent people.
OK, that quote was somewhat out of context. Russell just doesn't want you to get cavities. It turns out the dose makes the poison, and small amounts of fluoride are good, while larger amounts might be bad, though there is limited evidence on that second part.
But this idea of dosing mattering is new to journalists. When they were busying vilifying BPA, they didn't seem to care about dosage. When they were vilifying MTBE, they didn't care about dosage let alone demonstrable negative health effects of any sort. When they were pushing for lower arsenic levels, a multi-decade effort on the part of some journalists, they regularly ignored the facts that no negative effects were found at the dosages in question. It was enough that it was arsenic and arsenic is a scary poison.
Journalists are not a monolithic group, of course. They are allowed to disagree with one another. But if it is just the few, brave truth seekers now fighting Dr. Oz and Vani Hari, why weren't they brave enough to fight their employers back when their employers were in the business of publishing alarmist and tantalizing bullshit indistinguishable from what these two are now peddling? The only person I can think of who did in fact turn from producing alarmist news stories to combatting the same is John Stossel, and he is hated by his peers as a result. The Wall Street Journal is another exception, but I hesitate to give them credit since they hate all regulation.
PBS has an article online right now about the Dirty Dozen and which foods you should always buy organic. It asks the following question is if it were innocent rather than panic-inducing:
Why are some types of produce more prone to sucking up pesticides than others?
PBS does have its detractors, but I'm much more worried about a nationally funded news organization dispensing misleading information than someone who calls herself the Food Babe.
What is it about these personalities that make them so hatable? And in Dr. Oz's case so abruptly hatable? Dr. Oz first claimed that  resveratrol supplements were anti-aging in 2009. The only explanation I can come up with is that the media organizations now after Dr. Oz were too busy trying to mimic him. After years of promoting misleading health information, the public has finally stopped paying attention to whatever the next big thing is having been burnt by the last ten big things. The money to be made off peddling useless junk is gone. Rather than apologize for what they have done, however, it is easier to simply lay it all on the deserving Dr. Oz as if he were the architect of the whole thing.