Intellectual Loses Forest, Probably For Trees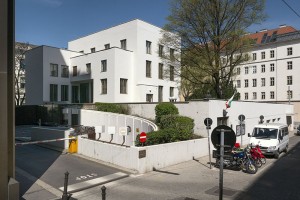 I have been contemplating a post about Wittgenstein, now that his name has been freed from exile, and in reading (and thinking) about him over the last couple weeks, I have frequently encountered and contemplated a well-known anecdote from his life in the 1920s, in the period after the publication of the Tractatus. A real post will hopefully come out of this (tentative title: "Ludwig Wittgenstein, couples' counselor"), but it reminds me, in an oblique way, of some of the conversations we have had around here lately, so I thought I would share it now.
Ludwig's family was never a happy one, and his life had never really been either, but in the 20s he seemed to spiral out of control. It was during this time that his mother died, after which he refused his substantial inheritance. He was fired from his job as a teacher for striking a student so hard that it knocked him out cold, for the crime of answering a question incorrectly. Unemployed, aimless, and listless, he contemplated suicide (one of several times during his life when he experienced suicidal ideation), took odd jobs (as a gardener, e.g.), and seemed determined to make everyone around him as miserable as he. He thought seriously of becoming a monk.
Ludwig's sister Gretl was at this time preparing to design and build a large mansion in their hometown of Vienna, and had employed local architect and family friend, Paul Engelmann, along with the Czech architect and designer Jacques Groag for the job. In order to help him out of his rut, and undoubtedly believing that with two professionals on the job he couldn't get into too much trouble, she suggested to Ludwig that he help with the design as well.
Ludwig, being Ludwig, dove headfirst into the project, even referring to himself as "Ludwig Wittgenstein, Architekt." In no time he managed to infuriate everyone, becoming major headache for both Engelmann, with whom he'd been friends since the war, and Groag in particular. The latter wrote of his experience with Wittgenstein, "I come home very depressed with a headache after a day of the worst quarrels, disputes, vexations, and this happens often. Mostly between me and Wittgenstein." The level of precision Wittgenstein demanded, which would have surprised no one who had read his book, was simply overwhelming to those who had to work with him. He spent a year on the door handles. A year. On door handles.
Which brings me to the anecdote I meant to share. As they neared the completion of the home, Wittgenstein became concerned that one of the ceilings was too low and, after much arguing, had it raised at great expense and effort and, I'm quite certain, annoyance. How much did the ceiling with which he was obsessed, which he demanded be torn out and then lifted, delaying the completion of the years-long project, need to be raised?
3 cm (1.18 in).