Social Justice is at a Dead End (UPDATED)
by James Vonder Haar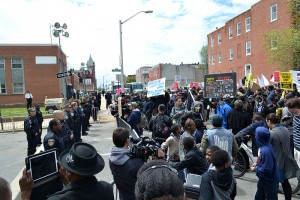 Justice is due, and we've run out of low-hanging fruit.
"A riot is the language of the unheard," said Martin Luther King. Without condoning violence, I can understand the sentiment. In the struggle for justice, in the asymmetrical combat that is race relations today, there does come a time when one side has to threaten all-out defection, their nuclear option. MLK worked successfully within the system because of the always unspoken threat that black people might start tossing bricks through car windows and taking jackhammers to storefronts in every city in the country. And it worked.
And so the Voting Rights Act. And so the nondiscrimination statutes. The "whites only" signs were burned and confined to the dustbins of history. We dismantled every official twinge of discrimination in public institutions that we could. We even made some of them, such as the universities, afford advantages to minorities.
And it wasn't enough. It wasn't enough. The typical American black still scores below 75 percent of most white Americans on standardized tests. (The first person who suggests this is due to genetics in the comments will be summarily executed). The average white family still has 13 times the wealth of the average black family.
Injustice remained. And the masses would grow quiescent for only a small period of time, before the weight of history would swing the pendulum back. Many have seen in Ferguson and Baltimore a hope that, perhaps, another civil rights movement is being born.
The problem, as I see it, is that we have nothing to give them.
Here is the original sin of American politics.
It's something called the Implicit Associations Test. You should probably just take one yourself, it takes less than five minutes, but for the lazy: on one side of the screen, it says "African American." On the other, "White American." Then various images or words appear on the screen, and you have to pair them, one to the other. Face of an African American, you press right. Face of a white American, press left. Then they ask you to start associating positive things with black people. Beauty goes to the left side, ugly goes to the right side. Then they reverse it. Then they tell, through average response times, how easy it was for you to associate concepts like "beauty" with "white American."
This is the closest thing we have to a scientific measurement of prejudice. The results are not pretty. 88 percent of white Americans and 48 percent of black Americans show an implicit preference for whites on the test. That last fact is worth repeating. 48 percent of African Americans are some kind of… well, since it's unconscious, it's hard to call it racism, so maybe let's call it racially prejudiced, against their own race.
This is not a matter of malice. This is not a matter of hatred. Good lord, I wish it was; if it were we would have gotten it right the last go-around of the civil rights movement.
Here's our biggest problem: the majority of people who test in the prejudiced side of the IAT are not consciously malicious. How do I know this? Well, it would be weird if something like half of African Americans consciously hated their own race. But I have a confession for you,: despite my progressive bona fides, my liberal arts degree, my love of Starbucks and NPR, I fail the IAT. Hard. I'm always in the highest category they give, usually in the 75th percentile.
I feel no conscious prejudice when I interact with my black peers. Near as I can tell my actions are entirely even-handed and untainted by malice. This is what racism looks like from the inside in the 21st century.
Let me explain what I mean. One study laboriously paired black and white students on all sorts of metrics, qualifications and extracurriculars and the like. They sent them out into the world to look for jobs. 47% of whites and 40% of blacks received an interview, a small and in fact non-significant difference. However 47% of interviewed whites were offered jobs, compared to 11% of interviewed blacks. This is massive, to put it mildly.
Another article sent off identical resumes with their only difference being a stereotypically white or black name. Employers respond to the white names 50% more.
I could go on. In fact, you should go on; the linked post above is called "social justice for the highly demanding of rigor" and should be required reading in high school civics texts. The point is that a whole lot of studies point in the direction of the hiring process, the housing process, etc. etc. being suffused with systematic discrimination.
So scenario 1: People (88% of white Americans!) are cutting their KKK sheets in private, flying their confederate flags at home, and consciously choosing the white candidate over the black candidate.
Or scenario 2: It's me. I'm the problem.
I'm the guy making the hiring decisions, and choosing the white candidate every time.
Or, if you prefer, the white police officer who, in the heat of the moment, uses disproportionate force against African Americans, consistently.
The white dude who couldn't wish for racial harmony any more than he does, who bears no malice towards anyone on the basis of race, whether educated about social justice issues or not, is our primary foe. And that's a problem. How do you fight me? I don't even know how to fight me. Minds we can change. Ideas we can dislodge. This weird, tangled morass of media influence and evolutionary psychology and collective guilt I have no idea how to even approach.
We've got the brute force option. Affirmative action is as subtle as a sledgehammer, but at least we can be sure it works. We can't kill gravity or still the wind, but we can aim higher, slightly to the left, so our arrow hits the target.
The brute force option, however, offends the American preference for formal (as opposed to actual) equality, and faces increasingly hostile jurisprudence. It's simply a non-starter in today's political climate. We'll be lucky to hold on to the gains we've already got.
So we return to the start: justice is due, justice is morally required of white America. Black America is rioting, justly so, and will continue to do so until we have righted the wrongs. And we've run out of justice to give.   Even whites of good will and social conscience can't figure out how to be even a microscopic part of the solution. At least this white can't. I can chant "I can't breathe" and do my tour in the tumblr self-flagellation mines, and I've done both, but unless either of those are going to move the needle on either police officers' IAT scores or my own, there's no point.
There is one ray of hope. Science as a candle in the dark. You can't improve unless you know there's a problem, and it becomes much, much easier to improve if you have a quantifiable diagnostic. The IAT is a powerful tool for measuring prejudice. Toss it into the grinder of academia, throw ideas for reducing scores at the wall until something sticks… 20, 30 years, maybe we've got a plan of attack.
Until then, more Trayvon Martins. More riots, mostly deserved. We'd better get cracking.
UPDATE: Commenter @Chris notes "The correlation between the IAT and overt measures if prejudice is consistently between .1 and .2. That is really low, obviously, and indicates that it doesn't predict racist behavior very well, if at all. It is as or more weakly correlated with other implicit measures.," and further goes on to post many of the IAT neutral or skeptical papers.
There are still those in academia who endorse IATs; it's not like this is debunked pseudoscience.  Still, it would be irresponsible not to note the controversy that the original post did not acknowledge.  I do believe that the core thesis of the piece stands regardless of these objections.  I thought the IAT so persuasive because it neatly squared the circle of a problem I couldn't figure out on my own: 1.) Racism is endemic, and 2.) Neither I nor most of my friends exhibit anything like conscious racism.  I wasn't prepared to jump to the popular conclusion that 3.) Therefore The Other (read Republicans) are at fault, and the explanation is therefore almost tautologically has to be subconscious.  Given that strong prior in favor of a subconscious answer, the fact that the IAT gets correlation at all seems like pretty strong empirical confirmation of some sort of subconscious bias going on.  To my mind Chris' objections show that the IAT is a flawed instrument to measure some underlying reality, not that that underlying reality doesn't exist.