Fatherhood & Conservatism: A Response to Roland Dodds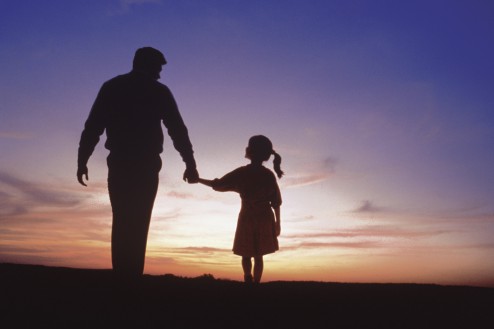 I greatly enjoyed the essay from guest author Roland Dodds and admired his honesty in explaining how parenthood has affected his political leanings. In the grand tradition of Ordinary Times and the League before it, a thoughtful response seemed fitting.
My own swing towards conservatism occurred right around my oldest daughter's second birthday, though I'm not sure if the two events can be fairly linked. While I have told the story of becoming a pro-lifer on the day she was born, my overall politics remained firmly left-leaning.Then I had a falling out at my union job, began to see the ills of misguided social policy, Clinton lied under oath and I decided it was time for me to part ways with the Democratic party.
For nearly 20 years I was a devout Republican, finding myself agreeing with their concerns about the rapid pace of change in American society and worrying what kind of world my daughters would grow up in. I became fond of saying that the Right was a place for fathers who only wanted to keep their children safe and it is in remembering that compulsion that I found Roland's post so interesting.
I find myself in partial agreement with Roland about society bearing some responsibility for pop culture and how it affects our children, The Left is the party of Hollywood and idealists and with the exuberance of a teenager they are indeed passionate about Change. I do believe we need a check on this tendency to rush forward and so at times I still feel a natural affinity for conservatism, caution being a quality many adults master. Unfortunately, I have seen too many well-intentioned efforts by the Right become horribly restrictive and unfair in practice. The truth is that while I have no trust in the media to protect my children from things I do not think they are ready for, I also believe that the Right becomes quite over-protective when allowed to make policy.It was this realization, along with a disgust for many of their political tactics that pushed me out of the GOP a few years ago.
Commentor NoPublic said, "Give your children the tools to rationally measure the impact of media and culture on their attitudes and beliefs and trust in them to make their own choices about that even if those choices don't match yours."
Three years ago I wrote about sending my oldest daughter off to college and having to revisit the 'drug talk' we had when she was younger. What I was forced to admit then, and still believe, is that the sheer weight of information children have at their fingertips today is staggering. The very thing I love about the internet, how I can research any subject with just a few clicks of the mouse, means that I can't possibly hope to tell my children lies in order to shape their behavior. My mother was very good at instilling values in us using stories we couldn't hope to verify in the 80s. Today this is no longer true.
When I was a child my mother allowed us to roam freely through the small suburb we lived in. We had no real boundaries and the only restriction was to be home before the street lights came on. but we had a curfew and other rules and at times I found this intolerable. Looking back I am amazed at the trust my mother placed in us compared to the rules I set for my daughters. My father was even less restrictive, allowing us to roam the woods of our farm with guns and all the wildness you can expect from young boys. I shudder to think of what kind of stupid things we might have done if we weren't worried what he would do to us in response. Contrary to what some would believe, we didn't behave out of fear, but because we didn't want to disappoint. Two far different things in my mind.
What I have learned after 20 years as a father is that if we can't trust our children, then we have failed. So I want my daughters to be free to do as they wish, while hopefully hearing my voice in their ear before they do something too foolish. These days I find myself not leaning leftward but into the libertarian camp. I want my daughters to have every opportunity possible. Not by judicial ruling or from sociological experiments created in think tanks and applied with government grants, but simply by asking that the world get out of their way and let make their own futures.I wish for a world where I can be left alone and want the same for my girls. I want the government to give us the same trust my parents placed in me.
I am also moved greatly by the complete lack of interest my daughters show in the differences so many of us want to dwell on as a society. While I found acceptance of gay marriage through my dear friends here like Russell, North and Jason, I was equally moved by seeing the way my daughters accept gay friends as a perfectly normal part of their lives. In this way they have taught me far more than I ever taught them.
In closing, I once again applaud Roland. His willingness to re-evaluate his beliefs, to admit to his change of heart and, I suspect, his ability to continue to evolve into whatever he will be 10 or 20 years from now. It is something we should all admire. The most boring and sad thing I can possibly imagine is to be the same person for the entirety of your adult life. Kudos to him for being willing to go on the journey.