An Unintentional Confession
Dayne Rathbone writes that
The reason I'm writing this is to give an account of our experience, highlight the errors we made, and to caution others from making similar mistakes.
He writes this even though it's clear that his real intention is to publicly shame his employee and hopefully get $10,000 and some exposure for his company in the process.
But that intention wasn't realized. Instead, he's written a confession letter masquerading in a public shaming masquerading as a public service.
Dayne Rathbone and Clyde Rathbone are two brothers "building a disruptive technology in the online reputation space" according to the latter's Quora profile. What follows is from the former's account of their dealings with an employee. I am redacting the employee's name, and I ask that you do the same in the comments.
The two brothers decided to use Go and Cassandra for their startup, two technologies that have a lot of mindshare in terms of things people feel they should learn but aren't that popular here in real life. The two had no experience with these technologies and made no attempt to learn them. They were unable to find any experienced candidates at all, but after placing an expensive ad online, they eventually found a Russian in Vietnam they liked.
They hired him.
Their employee gave them updates on what he was doing, but Dayne Rathbone says
It's difficult for me to evaluate his code – I have a degree in computer science, but no experience with the languages and tech that he's using.
If you're curious as to why a computer scientist would choose languages he has no experience with and doesn't seem to want to learn himself, I'm curious too. It's an especially strange source when resources like learnxinyminutes.com exist. He assures readers though that the choice was made "[a]fter a lot of research, and help from our tech mentors," whose names I am also redacting.
This went on for seven weeks. By that point, they finally hired another person who was able to review the employee's work. That person said their first employee only wrote about 600 lines of code and should be fired immediately.
Apparently having a computer science degree doesn't necessarily mean you can count without assistance.
Dayne Rathbone finally seizes the opportunity to look at what his employee has been doing:
I pour through [employee name's] uploaded code, it takes about 10 minutes. Even with my limited programming experience I can tell it's unsubstantial.
No explanation is provided for why these 10 minutes weren't available, say, midway through the first week rather than after six paychecks had already been delivered and a seventh week underway that they seemingly didn't pay for.
If you were in this situation, what would you do at this point?
In the Rathbone's case, they went with the following:
We also discuss how much money we should ask [employee name] to refund us. We consider all the time and energy he's cost us in addition to the cash, and decide to request all our money back.

…

I Google "[employee name]" and discover that it's an uncommon name. A search on GoDaddy informs me that www.[employee name].com is available for just $10.99. I buy it and begin writing this blog.

…

The following day Clyde and I had our last chat with [employee name]. We were interested to see his reaction to a draft of this blog, and to give [employee name] the opportunity to decide how the story ends.
The employee refused to refund the paychecks.
And what does this all mean for [employee name]? [Employee name's] life is unlikely to become immediately better because of this post, and Clyde and I have deliberated about whether we're doing the right thing by publishing it. Ultimately, we do think that it'll be a good thing for [employee name] in the long term.
It's all for their employee's long-term wellbeing. It's just a happy coincidence that they might have gotten ten grand out of it considering they have now taken down the post. (The Google cache is still available.)
Throughout the piece, Dayne Rathbone mentions that if their product existed, this never would have happened. Presumably, they think this would be because their employee would have been unemployable, and if he hadn't been, he definitely would be now.
In fact, this *feature* of making people unemployable already exists. No disruptive startup required. They implemented it for $10.99 using GoDaddy. You can make someone unemployable by registering their name and posting a rant about their shortcomings complete with screenshots. It quickly hit social networks, and if you search on the employee's name now, the cached version is on the first page of my search results.
The whole piece is a breathtaking first-person account of how easy it is to abdicate responsibility and replace it with righteous indignation at someone who isn't you. By the time Dayne Rathbone's anger has kicked in and he openly speculates that he has hired a con artist, he has forgotten that it took only ten minutes for him to judge the contribution as "unsubstantial".
At no point does he reflect on why he didn't put in those ten minutes earlier. At no point does he reflect why he as an experienced "games programmer" and computer science degree holder chose two comparatively obscure technologies that he knew nothing about. At no point does he consider if they should have revisited those choices when they were only able to find a single candidate after a lengthy search. At no point when writing this screed did it occur to him to ask what he could have done differently.
If you look at this Quora question that asks how they propose to keep reviews honest and unbiased, Clyde Rathbone responds
Hi Richard, that is a great question and one that we've spent countless hours working on. I can't go into specifics before we launch (June) but I'll say that we've spent a lot of time looking at various review platforms and identifying the key features that prevent abusive/dishonest reviews.

There is a spectrum online that ranges from highly disparaging commentary (think certain forums and youtube comments) through to extremely civil and respectful information (think Quora, Linkedin etc).

When you spend time asking why different platforms exhibit certain characteristics with regards to culture and tone it get's easier to figure out which features underpin principled content.

Apologies for not giving you a more detailed and specific answer, I'll revisit this question in a couple months.
I wouldn't be so confident in the value of what they extracted out of those "countless hours" when they themselves decided to take the relatively neutral structure offered by blogging and use it to smear an associate. The post is replete with several subheadings almost all of which are puns on their employee's name. This isn't even counting the big, bold title itself: "The Curious Case of [employee name]", which isn't a pun, but sure is devastating as a search result on someone's name.
I know bad managers exist, and there is probably nothing that can be done about it. But maybe there should be something done.
There should be OSHA regulations prohibiting the practice with an elite fast-response mitigation team.
There should be a Geneva Convention held where world leaders can get together to discuss what can be done to stem the crisis.
There should be a UN-headed aid group that delivers help to the victims.
There should be a political party that uses this issue as a litmus test.
Social justice warriors should drop whatever they are working on and tweet about this.
There should be a toll-free number you can call and be rewarded for reporting suspects after which they should have to wear body cameras.
Tyler Cowen should update his theory about the Great Stagnation to blame it entirely on bad managers.
538 should write an article with infographics about how destructive bad management like this is.
Vox should reblog those infographics.
Slate should write about how bad management is actually good.
Unfortunately, we do not live in a just world. There is no anti-bad-management lobby. Bad management is so shamefully under-regulated that anyone with a few thousand dollars can become a terrible manager overnight. They don't even have to disclose up front how horrible they will be.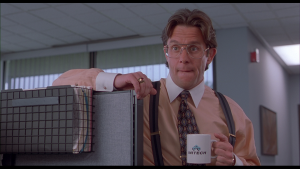 And in fact, they themselves don't even seem to know who they are. Why else would these two so thoroughly document their failings? Why would they think their instinct to allocate blame everywhere but on themselves would be shared by others? They seem to honestly believe they are the good guys.
To them, his was a crime perpetrated by another, and they played no part in its commission. How can we possibly fight back against bad management when the managers themselves seem to so earnestly believe in their own righteousness?