Don't focus on the riots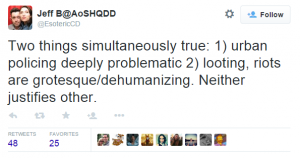 I just can't get too upset about the rioting in Baltimore. I'm not going to condone violence or theft, vandalism or arson. I'm not going to argue that torching a CVS is going to bring any justice for the past, present and future victims of police brutality, and I'm not particularly interested in getting into some detached, privileged*, trivial discussion of the appropriate tactics that the citizens of Baltimore should take in order to improve their city**. It'd be super easy for me to sit here and make pronouncements on the lives of others. But, if I'm to be honest, I can't, and so a burning pharmacy doesn't get my dander up.
It'd be difficult for me to particularly more insulated from the events in Baltimore (or past events in Ferguson, or wherever else people are reacting, violently or otherwise, to police abuse). I'm white. I'm middle-class. I live in a comfortable neighbourhood in a relatively well-off city. I'm nowhere near Baltimore. I'm not even in the United States. So I'm not prepared to pass judgement on those who have been living under such oppression for years and decades.
I am willing, however, to pass judgement on powerful over-privileged*** murderers.
4 blocks. 4 different conversations. Each time I'm asked the same thing. "If they want us to stop, why don't they just arrest those cops?"

— Scott Gilmore (@Scott_Gilmore) April 28, 2015
Last night, I turned on CNN. Yeah, yeah, I know, but I'd been following events on Twitter and wanted to get a less-140-characters-based view of things. Mainly the view–I knew what I was in for from the talking heads. I knew the story was becoming the rioting and the "rioting". I knew that few would care very much about Freddie Gray, and less so all the other indignities this community suffered in recent–and not-so-recent–history. Still, I was a little surprised at just how much of a mouthpiece everyone was for the police and the state.
Van Jones was there. Remember when he was a radical? I still, mildly, identified as a conservative back then, and I remember right wingers going HAM against this guy. The memories were absolutely surreal compared to the new CNN Reality. Jones was laying into protesters and rioters. The violence and vandalism was solely the result of these looting ne'er-do-wells. There wasn't a peep about cops assaulting and murdering citizens, cops throwing rocks at protesters, or the entire justice establishment doing absolutely nothing about the systemic abuse and harassment suffered by so many black residents.
Of course, Jones wasn't the only one. CNN dusted off Don Lemon to give us another dose of the pullitzer-worthy reporting that made us all wretch during the journalistic atrocities perpetrated during the Ferguson protests. Well, he was in fine form, doing his best to coax the leaders of a Baltimore church to denounce the rioters and protesters. The church had been constructing an affordable housing residence for seniors which burned during the riots (though at this time, it's not clear if it was related to the rioting or not). During most of the interview, the leaders of the church did their best to focus on the injustice and oppression that led to the anger that exploded in a few sections of Baltimore. This, of course, wasn't good enough for CNN. They needed easy black-and-white good-and-evil viewpoints…and apparently a bunch of cops murdering someone wasn't black-and-white enough (or maybe it was too black and white). 
Baltimore, then, is like so many other cities with their own Freddie Grays: a place in which private capital has left enormous sections of the city to rot, where a chasm separates the life chances of black and white residents — and where cops brutally patrol a "disposable" population.

–Shawn Gude
The war of rhetoric online is probably even worse. Yes, there are some good (familiar) voices out there offering perspective, and there are a number of people worth following to get insight into the actual causes of the unrest, but there is just too much easy grandstanding from people who have absolutely no skin in the game.
It is an expression of anger. Some humans riot because their school lost the big game. Others because the State can't stop killing them. — Ta-Nehisi Coates (@tanehisicoates) April 28, 2015
I'm not interested in out-Martin Luther King-quoting anyone. I can't know for sure how he would feel about Baltimore, and neither do you. Anyway, I'm not sure the writings of 1960s murder victims will bring us all to that eureka moment. I won't wave the flag of Ghandi or condescendingly ask What What Jesus Do? All your martyrs are dead.
I'm anti-violence – a pacifist, I guess. But I don't hold the powerless to that standard without expecting even more from the powerful. — Rebecca Cohen (@GynoStar) April 27, 2015
And that's the problem. Too many people are dead too soon. It's easy enough for white people to lionize the revolutionaries we've already killed. We need to stop the killing, and we need to hold the people responsible for the killing responsible. In this situation, the cops.
"Why can't you be more like (person we murdered)?" …???? — Negro Shrugged (@bpsycho1) April 28, 2015
I saw–I'm sure we all saw–images of the cheque-cashing business burning. I found this particular event illuminating. We've had a lot of back-and-forth about payday lenders and their ilk. It's a rather common phenomenon in North America that as a neighbourhood, city, state, province or country hits hard economic times, stores close and payday lenders are some of the only businesses that will fill the now-vacant storefront. They're kind of a scourge. They're parasitic; they're gauche; they're predatory. And they're absolutely necessary. Communities that are wracked by poverty need cash. They need credit, and they often can't get it through banks or credit unions. They're certainly not getting it from the government.
We're so paranoid about welfare. Those people will spend it on filet mignon or lingerie. We have absolutely no reason to believe this, but we hold our prejudices close. We need strings. We need workfare (even though it is and always has been a failure). We need to micromanage the lives others. The neighbourhoods are poor because they're bad. They can't be trusted with money or credit. Funny thing is, what poor people tend to really need is money. Yes, they need a job, but they need a job to earn money, not for some fanciful puritanical notion that mopping floors, living in a cube farm or shuffling papers actually makes you a better, fuller person.
Looting a check cashing joint is straight up Robin Hood shit. — Matt Christman (@cushbomb) April 27, 2015
The payday lender is the icon of so much that is wrong with our society, our politics, our economy, our inequality and our oppression. It's linked to red-lining, supports the case for reparations and demonstrates the need for a Guaranteed Annual Income. Where society fails to help, the predator steps in. And despite the demand for these sorts of lenders, and perhaps even the benefit they bring, the industry is inherently predatory. It's usury. They're polished up, respectable retail loan-sharks. We should do everything we can to eliminate every single one of them from our beloved nations, but we'll only do that if we actually begin to address poverty, inequality and the systemic oppression of our otherwise lovely system of democracy and capitalism.
National Guard says "let's go home." And people respond, "We are home! You go home!" #BaltimoreUprising — deray mckesson (@deray) April 29, 2015
So I watched the cheque cashing place burn. It wasn't with glee. It's most definitely sad. That was someone's business. It was someone else's employer. It was a source of quick cash for the resident who was pressed for money. Just like the burning CVS and liquor stores, there's no cheering for this sort of tragedy. I never want to see flames escape from a building again.
Every time I think I'm all out of tears, I think of that poor CVS and they once again start flowing. — Elias Isquith (@eliasisquith) April 28, 2015
But it was symbolically poignant. The pilot fish to capitalism's shark, these stores hover around economic carnage feasting on the scraps. For all the wealth the free market brings, capitalism is inclined to collapse in on itself without sufficient vigilance. You can support the free market, support payday lenders and still seek to address the underlying economic failures that give rise to these ectoparasites. So when I saw the building burn, I saw the ruin of rioting and arson, but I also saw all the economic wreckage that gave rise to the poverty-based industry. As an act of arson, it was horrible. As an effigy, it was poetic.
Focus will be on destruction caused by protesters. But this is the destruction capital has visited on the community. pic.twitter.com/QAactZFoV5 — Shawn Gude (@shawngude) April 27, 2015
Baltimore will be left will all this ruin…but it had been so ravaged by poverty and injustice that many of Baltimore's Before pictures would look like After pictures for many other cities. I see the level of poverty and disrepair, and I cannot fathom living in such a city. This is, again, a product of my tremendous privilege. I know this. And I know my privilege, and the recognition thereof, will be mocked.
Rioting an understandable reaction? Probably. But no excuse for the privileged being so gleeful about it, like its some sort of sports event — Jay Baltz (@jaybaltz) April 28, 2015
It's a swerve. I'm not sitting here rooting on the destruction. I'm not lionizing protesters or looters or arsonists or rioters. I'm not even saying I understand. I don't. I can't. But I can understand that a degree of rage could build up in a people for which there are very few outlets that are even somewhat appropriate, so I just can't judge.
I can judge the cops. I called them over-privileged. I know this statement will be picked apart. It's so easy to parse language and play semantics when it's not your neighbours, friends and family being murdered. I'm sure there are cops who have less privilege than I do. Some, no doubt, have more. It's not really a contest, though.
I'm anti-violence – a pacifist, I guess. But I don't hold the powerless to that standard without expecting even more from the powerful. — Rebecca Cohen (@GynoStar) April 27, 2015
For me, here's a good measure of privilege: If you arrest/abduct someone, step on their head, break their neck, their windpipe, take them on a "rough ride", have much of it videotaped, have there be witnesses, and absolutely nothing happens to you, that is a level of privilege very few of us will ever enjoy.
I used to be a conservative, usually more on the libertarian-ish side, but a conservative nonetheless. I was taught that cops were my friends. The son of a bureaucrat and a teacher, both university-educated, I never had any reason to doubt that. I totally understood where the law-and-order crowd was coming from.
Then you start to hear things. A friend gets harassed by the cops, maybe. A protest gets violently suppressed. A pretty young girl gets knocked over by a baton-wielding body-armoured cop while she's chanting something about flower power or other hippy crap. Cracks appear.
This rioting is sad, destructive. But it's also a few days of outbursts against decades of systemized state violence: http://t.co/i2N9sk5Ycn — Radley Balko (@radleybalko) April 27, 2015
Eventually, you see more and more, if you want to. Trayvon Martin, well, maybe he started it, so you can't say who was at fault. Then Mike Brown is murdered, we think, but he's a big guy. We weren't there. Then there's video of Stacey Bonds being stripped and assaulted for walking while black…but Steve Desjourdy was found not guilty (after being found guilty, but we can ignore that). You're torn.
Then you see Walter Scott murdered.
It's been said, over and over again; if the authorities had just arrested Freddie Gray's killers, we wouldn't be here. Even if they then let them take a trip to the Bahamas, we'd probably be sufficiently placated. All of this is the fault of the police. All of it. You want to be a law-and-order type, you investigate Freddie Gray's killing. Otherwise, you're just a useful idiot for state-sponsored murder.
Nonviolence, in the theological context that I learned it, is subversive. It's not about reinforcing the status quo. http://t.co/zQq7npXh4T — Tara Culp-Ressler (@Tara_CR) April 28, 2015
All right, let's go over all the caveats, all the qualifications, everything I have to say lest I be assumed to be some sort of armchair criminal. Of course rioting is bad. Of course looting is bad. Of course throwing rocks is bad. Of course arson is bad. Of course it'd be a lot better if we could just have peace in Baltimore.
Oh wait.
The refusal to seek out the root causes of violence is the primary reason that America is such a nexus of it. Yes, I feel for people who have their businesses burnt down. I just know to send the invoice to the cops who killed Freddie Gray.

–Freddie Deboer
What kind of peace do we want in Baltimore. The peace of having your throat and neck crushed by the police? Is that actually peace? Why do we assume that the status quo is peace? Why is acquiescence in the face of injustice and oppression some sort of ideal state?
No, I don't support rioting, but I abhor what came before.
*Yeah, I said it.
**Metaphorically, they probably should burn down their entire power structure.
***Sure, maybe you hate the word. That's on you.