Wolf Hall, episode 2
Wolf Hall, the TV series, continues to be mind-blowingly good through episode 2.
First, the acting. None of it is sub-par. Mark Rylance as Cromwell is intensely emotional, but restrained. One possible quibble with Rylance's interpretation, though: Cromwell went from blacksmith's son to chief minister and anointed earl of England in a time when very few crossed class lines, and no one had ever crossed them to a such a great degree. Thus I always pictured him as having an evident self-assurance to spare, maybe even an occasional touch of cockiness. Kinda like Obama in 2004. But while Rylance never seems uncomfortable in a social situation, he doesn't play up any self-assurance.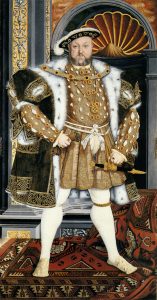 Damian Lewis is Henry VIII. It's sort of annoying that there is a theatrical law that every actor who plays Henry VIII must stand with his legs apart and feet pointed out, like in Henry VIII's most famous portraits. Did Henry really stand like that all the time? I thought Lewis was great in Band of Brothers, only pretty okay in Homeland, but that might be attributable to the fact that that part was written without coherence. He excels in Wolf Hall, alternating Henry's confidence with his emotional immaturity and neediness.
Last week, I mentioned that the photography had the feel of a slide show of paintings. This week, I will go one step further: pause on almost any frame, and the image could be a gorgeous early Renaissance painting. Cameras today can, more than ever, handle shooting in low light. This is an innovation of which Wolf Hall takes full advantage. The night scenes are truly dark, the flickering flames all the more noticeable. The costumes and setting seem more realistic than in most historical dramas, but I'm not entirely sure how they manage to convey that impression. Maybe it's that the excellent actors seem to move more comfortably in them.
An episode of Wolf Hall had almost exactly half the budget of one episode of The Tudors, but somehow Wolf Hall's showrunners manage to do so much with so little. Part of that is by choosing to lavish the relatively simple scenes they choose to film. Cardinal Wolsey is mobbed by thousands of fans, but this is not depicted, only described by characters. The money is spent on relatively few characters in relatively few spaces.
One of the great strengths of Wolf Hall the novel was that it used fiction combined with historical accuracy to actually make a historical argument: namely, that while Thomas More had been seen as a saintly martyr and Cromwell had been seen as a Machiavellian villain, in fact it was More who was detestable and Cromwell's character ought to be quite redeemed.
In this episode, the show captures the strangeness and hypocrisy of More. Cromwell and Bishop Gardiner (played by space awesomely slimy Mark Gatiss) visit More's house for a meal. More's insistence on the simplicity of his food seems repellently hypocritical (at another point in the episode, Cromwell clucks over a whip that his mentor Cardinal Wolsey uses for self-flagellation). So does More's detestation of his coarse wife. He keeps a fool, who – it is explained – is the victim of a traumatic brain injury, and during the meal, the fool is kept locked away upstairs but able to peer down at everyone else at the table, aware of his separation. It is not the happy, loving, convivial home that is fictionally created for Cromwell.
Ahead lie spoilers (but note there is some evidence that discovering spoilers does not diminish enjoyment of a work of art!).
Ambassador Chapuys notes that Cromwell must be watching Anne Boleyn with interest, "Since a world in which Anne can be queen is a world in which Cromwell can…" and he trails off. Of course, the immediate implication is that even Putney-born Cromwell can creamily rise to the top based on merit rather than birth.
However, there are other implications that Anne's becoming queen wreaks changes in all the characters. In this episode Cromwell sleeps with his sister-in-law (there is no historical evidence for this of which I am aware). It was a sin felt much deeply then than would be now to take up with your dead spouse's sibling, or to sleep with someone whose sibling you've already slept with. Henry aims to annul his marriage to Katherine of Aragon on the basis that she was once married to Henry's brother. Their lack of male heirs, he thinks, is evidence that Katherine is lying that her first marriage was unconsummated. Henry conveniently ignores the fact that his previous mistress was Anne's sister. Cromwell's taking up with his (married) sister-in-law after his wife died suggests a new permissiveness – as well as a theme of incestuousness? (It seems noteworthy here, too, that Anne at her downfall will be accused of sleeping with her brother.)
Although the show, like the book, portrays Cromwell as sympathetically as the historical evidence can possibly support, in this episode, we begin to see at least a couple of stains on Cromwell's character. Cromwell uncharacteristically tells a story of his past in Italy, about how he helped scam a rich man into buying a fake antique, mentioning that the man had tears in his eyes after the purchase. He expresses no guilt, and says he took his cut and sold the donkeys. So we have a sense of ruthlessness in money matters. Cromwell also insists he has to stay in London to fight for Wolsey's cause. Thus, he was not with Wolsey when he died calling for Cromwell. Instead, Cromwell was, for the first time, exuberant after a night of getting in good with the king (and thus advancing the Protestant – and Anne Boleyn's – cause) and sleeping with his sister-in-law. That is when he receives the news of Wolsey's death. We are not entirely sure whether Cromwell really did need remain in London for Wolsey's sake, or whether he was more focused on advancing his own career.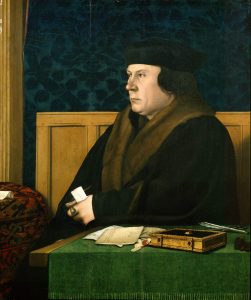 At the end of the episode, though, when Cromwell hears of his mentor's death, he is genuinely devastated and vows revenge. It is another of Mantel's historical arguments (less plausible than the one that Cromwell was in many ways quite enlightened and modern, but far from impossible) that many of Cromwell's later actions – most notably, bringing about the downfall of Anne Boleyn and some of her clique – are explicable by fervent loyalty to Wolsey. In the first two episodes, we see the groundwork for revenge laid. Those who are insulting Wolsey in various ways (insults for which there are no evidence of which I am aware, but certainly possible) are the ones whom Cromwell will have executed along with Anne Boleyn.
Cromwell slips on the turquoise ring that can be seen in his sole surviving portrait by Holbein. In Wolf Hall, it is explained as the cardinal's ring, one that Cromwell will continue wear while presumably wedded to the memory of his former master.
What did you think?