Regarding Web Pages & Unnecessary Complexity
by Michael Caine
Sporadically, I embark on crusades to force the World Wide Web as displayed on my desktop to conform to my own notions of reasonable choices for fonts, spacing, and so forth. I simply get annoyed by web pages that use three different serif fonts, three different sans serif fonts, in several sizes, some in bold and some not, some in color and some not. While there may be subtle – but possibly of artistic importance – differences between the Oxygen and Verdana fonts, I see no reason to use both of them on the same page. No doubt this sort of attitude reflects my age. I'm old enough to recall when HTML pages were about content and structure, and details like fonts were intentionally left in the hands of the end user.
On previous crusades, I managed with tools like Firefox's preferences settings and the ability to provide global user-specified CSS values. In combination, it was possible to overrule most of the font settings. But it's no longer safe to blindly change the page authors' font choices: people use special fonts to implement things that should have been done with other mechanisms. I'm looking at you in particular, FontAwesome, with navigation icons like left and right pointers embedded in a font rather than in an image. Override the FontAwesome font and the navigation icons turn into something worthless. This time I've been forced to bring out the big guns: JavaScript and Greasemonkey. Yes, I've been reduced to writing and running code that modifies web pages on the fly.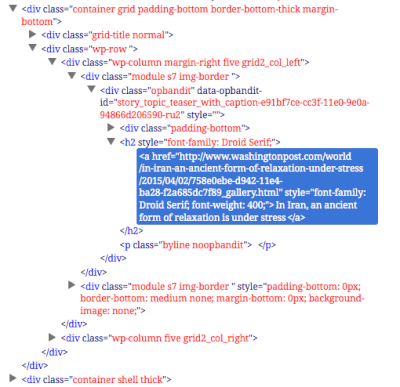 Developing the basic code to do what I want has forced me to turn on debugging tools in my browser and look at the actual HTML, CSS, and JavaScript source for various pages. What did I find? Thousand-word pages that load a 20,000-word CSS file, at least 99% of which is unused. Production pages that log (lots of) JavaScript messages that include the string "debug" to the console. Production pages that load scripts that contain syntax errors, hence are never run. Production sites that download font files that contain errors, hence are discarded and never used. Some of the document structures are… interesting. For example, it is not uncommon to find a section of the front page from a newspaper site that contains an image, a small headline, and a one-sentence teaser. These three items are embedded in an incredible array of nested containers, mostly <div> and <span>, like a data version of one of those Russian dolls. Farther down on the page you find the same type of objects – an image, a headline, and a teaser – embedded in an entirely different arrangement of nested containers, rendered in slightly different fonts and sizes.
Some sites use JavaScript to load and position the real content. That's cool, I've been known to occasionally use JavaScript to do that myself. As a result, though, my script has to be alerted and rerun whenever the page content changes in order to be sure that new material is rendered my way. In one interesting case, someone's page downloaded a script part of which is similar to mine – it is invoked whenever the page content changes and among other things, resets some fonts and sizes. In combination, the two scripts slugged it out, theirs changing everything to the Oxygen font and mine changing everything back to what I prefer. At some point, Firefox gave up and crashed. I gave up and added that site to my exception list. If Oxygen is that important to them, so be it.
In everything I've ever done professionally, one of the important concepts was "unnecessary complexity is always the enemy." I'm somewhat discouraged by the project this time, but I haven't given up – it is a crusade, after all. It's actually surprising how much of the time it's possible to make reasonable guesses about what function a piece of text is serving and adjust its appearance accordingly. But I have been reminded of the old saying that it's not how gracefully the bear dances that's amazing, it's that the bear dances at all. I have a new appreciation for the fact that it's not how fast (or slowly) contemporary web pages load, or how attractive (or not) they are, but that they load at all.
---
Photo credits: The dancing bear from Wikimedia Commons. Firebug "examine element" screen capture by the author.