Ending Words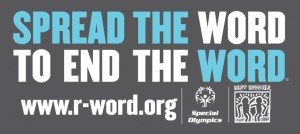 Last week, I was a bit intemperate in the comments section of my post. I had said in the OP that the word "retarded" was offensive. In the comments, a few people told me in different ways about why I was mistaken, and shouldn't take offense. There was an implication that my investment in the issue was emotional (I have a kid with intellectual disability), which was why I could not see the true position clearly. The reason for my intemperance (for which of course I apologize) is that it felt like whatever the disability equivalent of mansplaining is. Abilisplaining? Which is, I think, a genuine problem, although my getting angry doesn't help.
Anyhow, my main point, more temperately expressed: people with intellectual disabilities, as well as their advocates, overwhelmingly find the R-word offensive. That is reason to stop using it. Full stop.
There was a Washington Post article this week which described a researcher using "Big Data" to "prove" that the term "redskins" is offensive. The research is interesting, but proves nothing. If a large majority of Native Americans find it offensive, it is offensive. Suppose no one found the term "redskins" offensive. The research would be meaningless, no? It wouldn't seem to make sense to tell them, "You might think this is an acceptable term, but our data shows it isn't. So start being offended!"
You can tell people all you want that you don't mean X to be offensive, but if people to whom X refers tell you it is offensive, what you might mean carries less water. Words are social. They are not assigned a personal meaning by each individual who uses them, or else linguistic communication would be impossible. I cannot just tell people what I really mean by what I call them and expect them to accept it. In general, I think it's wise to defer to the group whom a term denotes.
Some suggested in the comments to the post a view that I used to hold, and which was voiced in an article I wrote about a move to rename schizophrenia. That is, that terms such as "redskins" might come to be seen as offensive because we know Native Americans are not different from the rest of us in a psychologically important way. People with disabilities, however, are different, and any term for them will necessarily become pejorative.
I have changed my mind on this point for several reasons.
Before I had my child, I had no contact with disability whatsoever. I was not overcome with mama-love the first moment I saw my child. I thought I didn't want to deal with this, and the only people who could really be okay parenting such a child were fundamentalists. I say this with shame, but it is the truth. What made me change my mind was not having a child only a mother could love, but by becoming familiar with people with disabilities. I also see how people respond to my son, and how my typical sons respond to disability. When people are familiarized, their attitudes change. The sense of the importance of the difference between "us" and "them" is greatly reduced.
Anyone over the age of 25 or 30 grew up in an era of segregated schools. We simply do not know how this coming generation, who are experiencing rapidly increasing inclusion, will feel about people with disabilities. My prediction is that they will view them much less pejoratively.
The data I cite in my article on schizophrenia from Japan, where the name of schizophrenia was changed, suggests that name changes can have a dramatic effect on people's perceptions and treatments.
Children are psychologically different from the rest of us, yet the word "child" is not necessarily pejorative in the way "retard" is. Someone can be childish, which is bad, or childlike, which is good. But "child" is not inherently demeaning. Psychological difference need not automatically translate into pejorative language use.
It's time to end the R-word.