Straight Shave
Until about two weeks ago, I was sporting a goatee. My wife hated it. You see, my mustache and beard come in with thick, wiry whiskers. As allergy season began, it started to itch like a practical joke gone wrong. So off came the beard, and I'm back to being clean-shaven. This happens once or twice every year for me. The difference this time is that I've started using a fold-out razor, rather than the disposable or cartridged shavers.
And now that I feel like I've mastered the skill enough to keep my face both stubble-free and blood-free, I'm going to tell you all about it.
Know Your Razor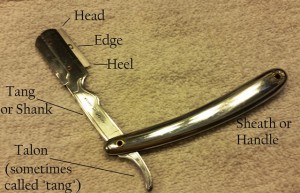 The blade itself consists of a blade, with an edge, which in my care are mounted on the "tang," sometimes called the "shank." The tang has, near its back end, a pivot, which swivels the tang arm into a sheath, more commonly but in my opinion incorrectly called a "handle." The back end of the tang has a curved notch, which is confusingly also called a "tang" by some, and is also called a talon. When you fold it up, the tang goes, blade-first, into the sheath.
Some razors integrate the blade into the tang, which requires periodic sharpening on a stone, and daily pre-shave finishing with a leather strop. That's not for me. I separate out the tang, mount a disposable razor blade (cost: about a nickel per double-sided razor) and put the safety lock on.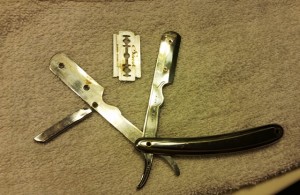 A week later, I flip the razor so a fresh blade is exposed, and a week after that, I throw away the now dulled razor and use a new one. I bought 100 of those double-sided razors for just over five dollars on Amazon, and they should last me, at this rate, until some point in 2018 — with between five to seven shaves a week depending on how fastidious I want to be.
Now, let's get to shaving.
Prep Work
First, prepare your face. Wash it in very warm water, almost but not quite painfully hot. Some places will tell you to do this in or after the shower. I live in drought-stricken California, and my bathroom has a vaulted ceiling, so retention of heat and steam is not a practical possibility. Also I prefer to shave before showing rather than after. But the hot water on the skin is important to make the pores of the skin follicles relax.
Second, apply shave oil. Three or four drops of oil, smeared thinly on the parts of the face that are to be shaved. I skipped this when I started straight razor shaving, and that was a mistake. The razor hurts a lot more, and is much easier to inadvertently dig into the skin, without the oil.
Third, brush on the lather. A nice brush feels good, but most important is getting a thick, warm lather of small, durable soap bubbles on the skin. This marks where the razor has been, lubricates the razor, and keeps the newly-exposed skin clean.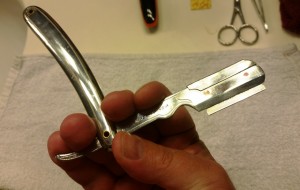 Fourth, make ready the razor. The sheath is on a swivel. Rotate it 270 degrees. Place your thumb on the blade side of the razor arm, in the little indentation on the blade arm. Your four fingers will go on the back side of the blade arm, with the sheath threaded between your middle and ring fingers. Some guys like three fingers on one side and only the pinky on the back side of the swivel, and if you're one of them, more power to you. My grip is as illustrated.
The next step is going to seem silly when you do it, but do it. Wrap your arm around your head and place it by the opposite ear. Pull the skin tight and flat. What you're going for is the flattest surface possible to use the razor on. Because next, we're going to start cutting.
Time to Cut
Use your right hand to hold the razor on the right side of your face, your left hand to hold the razor on your left, and your dominant hand to handle the areas in the middle around your mouth. It may take a bit of practice to teach your inferior hand how to hold the blade steady, but you'll get there. Like playing a guitar, the seemingly more delicate fine motor control with the inferior hand is ultimately easier than the stronger, dominant hand.
Hold the business end of the tang at about a twenty degree angle to the plane of your skin, pointed in the direction of the stroke. Rest the razor on top of and just touching the skin, digging into the lather just a bit. Stroke down about an inch along the skin. Repeat as you move forward the blade's length across your cheek from ear towards the nose. I typically stop there, leaving the lather on my mustache in place for the third cutting phase. The objective here is to slice through the whiskers, not to dig into your face. Let the blade do that part of the work for you, and learn how to hold your hand steady. This won't happen the first or second time you use a surgically-sharp blade mounted on a new tool. So expect several pink cocktails of soap and blood trickling down the cheek.
Your trouble spot is going to come at the jawline. You must learn, over time, how to rotate your wrist to track the shape of your jaw. If you're like me, the mirror is deceptive here and will cause you to misjudge the rotation — resulting in either whisker on the neck and below the chin left behind, or you'll literally cut your own throat. (Not badly enough to warrant medical attention, unless you're doing it really wrong.)
Maybe you've got all the whiskers off at this point. I find I don't, because the grain of my whiskers seems to come in three directions down on my neck. So I re-apply a fresh coat of lather, and do a reverse angle on my throat — I point the edge of the razor up, and cut in that different direction up my jawline. On my face, there's some trouble spots. I find that right below my nostrils is hard to get a good downward angle on, and sometimes I don't dig down into my philtrum enough or the area just outside of the outside of my lips, so I peer closely into the mirror and slice through anything I can with the razor that way. You'll learn the trouble spots on your face too — cleft chins are tough, I'm told, although my own chin doesn't cleft all that much.
It took me about two weeks of cutting myself badly every morning before I acquired the muscle memory to not cut myself badly, and now I hardly cut myself at all.
Why The Hell Should I Bother?
Maybe this isn't for you. Maybe your beard doesn't come in so fast that you need to shave every day. Maybe you're okay with the disposable or cartridge razor shave or (gods help us all) a motorized razor.
What I find, though, is that I have to slow down my morning routine a bit to do this. I have to pay attention to what I'm doing. I have to pay attention to detail. The result really is a closer shave. The phrase "five o'clock shadow" applied to me. Maybe "six o'clock shadow" rather than five. I'd get enough beard growth back during a day that my wife would notice it when I came home at night. These days, not so much.
Then, there's the fact that it is a lot more difficult than the swivel-headed eight-blade disposable cartridge that you can't screw up with other than intentionally. The razor is difficult enough to do right, it is an exercise in mastery of a skill, that it feels like a small triumph to come away from it with smooth face and no cuts. It's a little boost to the ego. If your days are like mine, there are plenty of assaults on the ego that happen along the way, so being able to see actual evidence that you're competent at something, even if it is seemingly so basic as shaving, that your self-esteem can remain healthy.
But even more than this, is the requirement that to do the job right I must pause, that I must pay attention to detail. You can't cheat a real razor blade — your mistakes translate instantly into blood on your face. There has to be a moment of mental calm, leading to physical mastery over the hands and face. It becomes a bit of a meditation, convened by the ritual of washing and oiling and lathering the face.
What I'm hoping for is a bit of calm being in my mind, and for that focus and attention to detail to infect my personality. Rather, to disinfect that frenetic worry with the affairs and issues of the day, the pressure to be in court or at a meeting at a particular time and to get everything just right and perfect, and to stay on top of dozens of sometimes difficult personalities and complex facts — the mental chaos and stress that is daily life. Your exact blend of mental chaos and stress will be different than mine, but surely you have some too. The shave imposes a moment of calm and focus.
And then there's the cost. Like I say, I won't buy any shaving supplies other than soap and oil for at least three years; the oil and soap are easily affordable and last a long time. I think that those swiveling cartridges are godsawful expensive and I've stumbled into a mental benefit as well as a better shave with the technique I've elaborately described above.
Afters
As I noted above, contrary to the "best practices" of the shavers even more persnickety than I, my morning routine sees the shower after the shave. But if not, for whatever reason, a balm is needed. One without alcohol because ouch! why would you do that to yourself? That's not quite the same thing as after shave or cologne, although you can certainly get balms that smell nice. I'm not a big cologne wearer; if the scent of the shave balm lasts for a while, I'd prefer it be subtle and available only to someone like my wife who is going to actually cuddle up to me. I don't want to share the wonderful smell of ounces and ounces of cologne with everyone else on the elevator because I know I don't like it when someone else does that to me.
Clean the blade regularly and keep it dry between shaves. You don't want it getting rusty. And for the love of Diet Dr. Pete, don't put your fingers on the sharp part of the razor. Keep it folded up in the sheath when you aren't using it for safety's sake, maybe keep it on the top shelf of your medicine cabinet so if you happen to have any little ones who might wander into your bathroom and go exploring, it's difficult for them to get at it and hurt themselves. Final safety tip: keep a towel wrapped around your waist, or at least wear underwear, while you're using the razor. Just in case you get clumsy and drop it.
A note for the ladies: this doesn't strike me as particularly suitable for the ways and locations women groom away unwanted body hair. A face presents some fine motor control challenges — the philtrum, Adam's apple, and cleft. But navigating these is relatively quickly learned and the consequences of a mistake along the way is a moment of pain and several minutes of bleeding. A man has relatively easy access to lean forward and peer into a mirror to see what the hell he's doing on his face with that amazingly sharp blade — an advantage you likely won't have in the shower, where I've noticed women typically shave.
Typically women shave their armpits, the legs, and in the bikini area. Armpits seem possible with a straight razor. Legs could in theory be done this way, too, but that's a lot more real estate than cheeks and chin and you don't want to have all that steel in the shower with you, if only because it'll rust out pretty quickly. But as for the bikini area, my advice is to go ahead and keep that suitable-for-surgery-super-sharp blade comfortably distant from your ladybits. The consequences of a simple slip, momentary and unconscious, would be a lot more painful than the equivalent jab into the cheek or thigh.
Instead, following the suggestion of Stephen Green, whose take on this subject several years ago is similar to but not quite the same as mine, after some fella you know (be he boyfriend, husband, brother, or friend from work) follows my lead and takes up straight shaving, you take those expensive swivel-head cartridges from him. Even as pricey as they are, they're still better and cheaper than the equivalents marketed specifically to women.
Happy shaving.
Image credit: Author.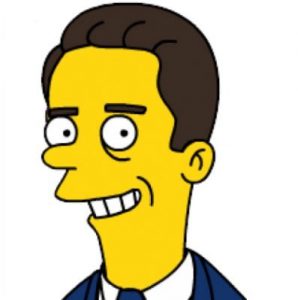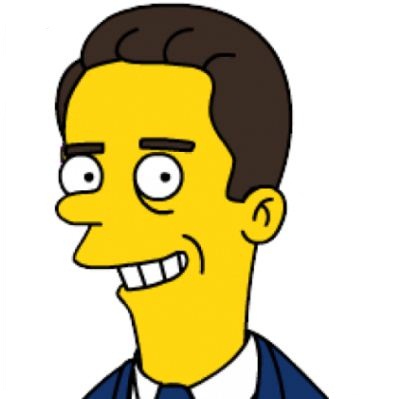 Burt Likko is the pseudonym of an attorney in Southern California and the managing editor of Ordinary Times. His interests include Constitutional law with a special interest in law relating to the concept of separation of church and state, cooking, good wine, and bad science fiction movies. Follow his sporadic Tweets at @burtlikko, and his Flipboard at Burt Likko.