Call me "Dr. Janitor"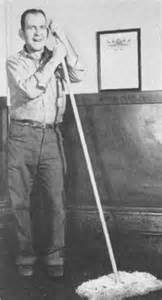 There is a bat loose on the fourth floor in the Dean's office and his secretary is having a nervous breakdown over it. In front of the library lies a perilous patch of ice that needs to be chipped up before a student goes for a tumble. It is improbably paralleled, Rorschach style, by a frozen pool of puke ten feet away. Meanwhile, four regulars have been calling in sick and there are therefore three neglected public washrooms that look positively post-apocalyptic. It is just past six a.m. This is an ordinary morning.
My coworker, however, is so overjoyed she's nearly vibrating today. Thirty years old and like a human supercharger, she's happy and hyper about everything most days. But yesterday, she got the letter: she's been accepted to one of the PhD programs at the university where we both work as cleaners. Soon enough, she will be steeped in postcolonial theory, subaltern studies, the death of the author, and post-humanism. Right now, we're both steeped in cleaning solutions. If I was biting my tongue any harder, blood would be squirting out of my mouth.
Make no mistake- I am just as thrilled for her and I toss whatever words I can into her growing well of excitement and anticipation. I just have my misgivings about the profession, one that I have seen from the periphery and inside, and retain a great deal of ambivalence about. She's going in search of mentorship and guidance within the academic guild system. Let her find helpful and sympathetic academics. But may she never become an academic herself.
Here's the short version of my story: I received a PhD in History two years ago from a large state university picked because it was close to the Canadian border. When I entered the program, I was in love with a Canadian woman and less so with the Bush regime and decided it was time to move to a new country and start a new life. I stayed in the History program for eight years, was married for seven, and left both with the same enthusiasm and desire to start a new adventure and make my way in the world. I now work three part-time jobs: as a dishwasher, a profession that Orwell considered the closest modern analogue to slavery (the sort of thing an ex-grad student would know!), a prep cook, and a janitor. Nearly every friend I have has made the same joke about me solving equations on chalkboards while mopping the hallways after dark.
Whenever I have free time, I am in the university library working on a second book project (after the dissertation) about my great-grandfather, who at my age was a journalist roaring across Europe with Ernest Hemingway and Ezra Pound, back when it was possible to do such things and make a good living with barely any education to speak of. I often wonder if he had some sort of moxie and courage that I simply lack, or if they will surface as a long-dormant recessive trait when most needed. Sometimes, I want to punch him in the face. Luckily, he's been dead for sixty-five years.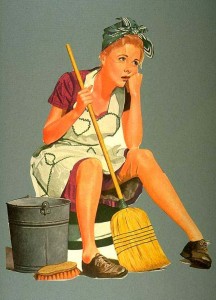 But this project gives me an excuse to study modernist literature along with a dozen other topics. I am always studying. Like my co-worker, I entered graduate school as an excuse to study all of the things that kept me awake at night. I was curious about everything in the world, in love with art and literature and human civilization, and saw grad school as a promising opportunity to follow all the rabbit trails I could without too much interference from a commercial society. There is a line in Chinese philosophy that you should study as if you were trying to catch something and afraid of losing it; that was my life and I was looking to be plugged into a circuit board of people who also lived that mad pursuit.
It was a monastic lifestyle really and certainly populated by plenty of monkish scholars, people of the page in an age of screens. These were the sort of scholars whose topsy-turvy offices I now clean when they're home sleeping. I remember as a grad student often studying all night in my office and running into the cleaning staff and how they would awkwardly avoid making eye-contact and apologize for interrupting me. No, no, I wanted to tell them; my father dug ditches and caught lobsters and I worked road crew and construction for years. We're all workers. Of course, I already knew that was nonsense.
My family and friends took it for granted that I would become a history professor with ease; perhaps report to some isolated prairie community and offer my services to the local college for a reasonable fee. I was always a bit ambivalent about this prospect, but unsure about what Plan B might be. It did not go unnoticed by me that ours was a typical state U and our entire faculty had Ivy League degrees of some sort. Where would we go?
I still remember the choking feeling I experienced in a graduate seminar when an elderly professor of intellectual history who was known for his political radicalism and absentminded lack of any social graces was rattling off examples of social injustice and declared that "I've never thought it was fair that people who get PhDs from schools like ours can't get any jobs in academia!" I was suddenly reminded of those dreams of going to class and realizing I was naked.
He was not exactly wrong. A recent study in Science Advances looking at faculty hiring practices in the United States and Canada found a "steeply hierarchical structure that reflects profound social inequality." Disciplines such as Business hire considerably more regular faculty members than ones like History. Certain elite schools dominate in who gets hired in all disciplines. Half of all tenure track hires in History, my specialty, come from just eight schools. Certain disciplines are mired in such intense struggles over funding and doing so little hiring anyway that even adjunct positions are hard to come by. My co-worker's prospects for future academic work after receiving a PhD from this university are not great.
But, it's not impossible. This is the key thing to remember when asking why so many grad students willingly remove themselves from the job market for years to pursue what quite often amounts to a pretty piece of paper. Like all pyramid schemes, graduate school functions by bringing in waves of new people each year, telling them all they can be successful if they work hard enough, and lauding the small minority that actually make it. With tenure dying a slow death in academia, those ranks are shrinking.
As a result, nearly every grad student I ever met is what I call emotionally overleveraged: they've sunk so much of themselves into the academic dream that not hitting that distant goal would feel like catastrophic failure. When you ask why so much writing in the humanities is so trite and formulaic now and plays it so safe, remember that, for these aspirants, the stakes are sky-high. And since a few do snag the brass ring, nearly all of those who don't imagine it to be their fault somehow. Did I attend enough conferences? Did I publish enough articles? Did my work contribute to the field or was it just so much wasted paper? Did I attend the right school and know the right people? Was I sufficiently focused on my work regardless of the other things in my life? Ask my ex-wife about the last one.
I too accept the blame for my short-lived academic career. I made plenty of mistakes. First off, I went to a lower-tier university for grad school to be close to my fiancé because I thought that getting my Bachelor's at a public ivy was what mattered and just the opposite is true. Then, I fell head over heels in love with teaching and devoted much of my time and energy to it in a profession that places publications far above teaching. I never had anyone say to me, "Be a great teacher or perish." I didn't attend many conferences or department socials. In general, I was a washout as a careerist.
Finally, my "Plan B" amounted to applying for other jobs in the private sector armed with a PhD and "professional" skills in research, writing, teaching, analysis, and editing. But, even applying for entry-level positions, I was told, repeatedly, "We're not really looking for an historian." Off the record, I was told often that I should leave the PhD off my resume. When I asked how I should explain the seven-year gap, a counselor suggested I admit to having gone to grad school but tell potential employers that I dropped out.
So, I went with an ad hoc Plan C and started washing dishes at night and working as a janitor in the mornings; one job gives me free meals and the other allows me to check out books from the university library. And when I have to interrupt professors to remove their trash, I look them in the eye.
When I was in grad school, I often joked that being in academia was like working at Enron a year before the crash. The combination of narrowly-specialized academics ensconcing themselves in increasingly narrow disciplines, a generation of administrators attempting to remake the university on a "free market" corporate business model that doesn't really fit, an arms race of endless expansions concurrent with public funding cuts, and students whose connection to the printed page is vestigial at best… well, it seems like a recipe for failure.
And yet, they come. The students keep coming, the grad students keep coming, and the exhausted adjuncts keep coming. Freddie deBoer made the interesting point recently that the "free market" people trying to change education by abolishing tenure still expect potential teachers to behave as irrational actors. He's talking about secondary education, but the point certainly applies to academia, where the expectation is that bright, enthusiastic young people like my co-worker will willingly remove themselves from the job market for five to ten years in order to receive rigorous, often grueling training for a job that, when she's done, most likely won't exist in any form that she could make a living with, and to gain skills that the corporate world generally sees as non-transferable. An old grad student friend of mine said it was like entering a five year long lottery in which the first prize is a low-paying, four-month contract position in Iowa.
And yet, they still come. Irrational or not, they come because they're driven by curiosity, which is very seldom rational. They come for the same reasons I have two dozen books checked out from the university library currently and have snagged about 200 more that profs were throwing out. They come because they can't stop chasing their curiosity about and love of the world. And they come for reasons the market-minded will never understand.
So, as we were sitting in the break room eating lunch, I asked my co-worker that grown-up person question: What do you plan to do after grad school?
"Oh, I'll probably work here as a janitor!" she laughed. She is happy and has no plans to worry about that question for the next five years. She's going to enjoy the experience and learn all she can without being slowly simmered alive in a grad school cauldron of those sorts of fears and concerns.
"You're not interested in becoming an academic?" I asked.
"No!" she laughed again. She wants to write books and plays and study a dozen other topics. She says she wants to write things that people will actually read and be affected by; not journal articles that maybe a few dozen academics will skim through, make a few notes on, and promptly forget.
I think she knows just what she's doing.