The Montauk Catamaran Company Chronicles, 3/29/15: Flight Time vs. Sea Time
(The Montauk Catamaran Company Chronicles is an ongoing series of posts detailing the construction of Mon Tiki Largo, a James Wharram Designs Pahi 63 MkII. The author's current boat is the catamaran Mon Tiki, a JWD Tiki 38, which he built in 2012 and currently operates as a day-sailing charter in Montauk NY. You can see all the posts in this series by clicking here.)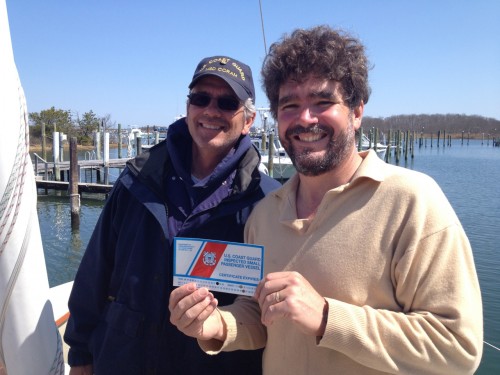 The author with a USCG inspector on the day the Catamaran Mon Tiki was issued her COI
In relation to the Germanwings murder/suicide air crash I have seen here and there discussions of the amount of flight time commercial pilots must have to be qualified for various positions in the cockpit. None of the discussions I have seen have made mention of what sort of experience other people who operate passenger vehicles or vessels must have, and without that it's hard to know if 200 hours, or 2000 hours flight time is a lot or a little in relationship to the responsibilities. It's understandable that airplanes crashes hold an especially horrible and frightening place in our imaginations, but buses and boats also encounter misfortune.
With that in mind I'd like to tell you about the various requirements for my license, which is a USCG issued 50 ton Near Coastal Masters. But before I do that, and on the subject of "experience" I'd like to tell you what my deckhand said to me the first week of the second season we worked together.
The first week of our second season my high-school age deckhand Lucas said to me, "Last year I was thinking "What a great job, we're on a boat. What could go wrong. This year I thinking "Oh shit, this is a death trap! There are a hundred ways someone could get hurt!'
I was happy to hear this. At 16 (our first season) Lucas was capable, legal, and had many years of being on boats under his belt. At 17 (our second season) he was another year older, and had a full season of being on Mon Tiki with our land-lubber guests. I was happy to see him maturing so nicely. Even at his tender age Lucas already has enough sea-time to quality for his Masters License. By the time he is of legal age to drive Mon Tiki (19) he'll have more than enough of the sort of experience that really counts for the work we do.
With that preamble I'll tell you what my license is, and the requirements are.
As mentioned above, I have a 50 ton Near Coastal Masters License. This license qualifies me to operate Small Passenger Vessels (SPV) up to 50 gross tons up to 100 miles from shore (presuming the vessel itself is rated for the route). (For tonnage scale, Mon Tiki is 22 gross tons, and certified for 49 passengers; Mon Tiki Largo, the boat we currently have under construction will measure be about 40 gross tons and ~100 passengers).
To qualify for this license I needed 720 days of sea time, with no fewer than 360 of these days in near coastal or ocean waters. The balance could be made up with "inland" sea time, which would be time on lake, rivers, bays, etc.
I also needed 6 days of classroom time and accompanying test. If you actually have the sea time, and are a good test-taker, the classroom work and accompanying sea time are perfunctory. Because my vessel operates under sail-power I am also required to have a sailing endorsement. Again, if you have experience as a sailor, the test is perfunctory. I also have a radio operator's licenses. The testing for that is similarly perfunctory if you have actual experience with the equipment.
I had to submit two notarized statements from witnesses stating I was a responsible person.
I was subjected to a physical exam administered by a physician of my choosing. This is good for 5 years, unless I upgrade my license, in which case it's only good for 3 years. (For example, if I were to go for a tonnage upgrade 4 years after the physical, I'd have to take another physical.
While I am a "credentialed mariner" I am subject to random drug testing. I tested clean into a 3rd party testing program, and half of the programs pool is randomly tested each year. (I have not yet been called for a random test, my wife has been called once in two years.)
My credential must be renewed every five years when all of the above must be repeated.
—
The general licensing scheme operates on two axis: vessel size and route exposure. Inland, Near Coastal, and Oceans are the route exposure ratings. 50 tons is the smallest vessel size. (there is a 25 ton rating, but it's only very rarely used).
Vessels themselves are finer grained: protected, partially protected, limited coastwise, coastwise are the ratings I am familiar with, but there are higher ratings for oceanliners, etc. Vessels also have a specified passenger count. Mon Tiki is certified limited coastwise for 49 passengers, plus 2 crew.
In the tonnage ratings beyond my grade there are passenger and non-passender endorsements. For example, a captain may be rated to drive a 2500 ton fishing boat, but be restricted to 200 tons for Passenger Vessels. The highest grade is Unlimited Tonnage Ocean Masters.
Also, unlike airtime, sea time is in days. That could be a half-day fishing trip, or a 24 hour solo passage. Either way it's a day. Using the USCG standard of eight hours/day, the 720 days sea time required for my license comes out to over 5,700 hours.
—
All of the above offered for comparisons sake, FYI, YMMV, etc. It would be interesting to know what sort of qualifications a bus driver needs, and what sort of ongoing oversight there is. There's no co-driver on a bus, so would be even easier to drive a bus off a mountain road than it is to fly a plane into a mountain. Not a cheery thought, but then we put our lives in other people's more often then we realize.
Edited to add:
I'm going to respond to Burt's comment here because this point has been made by pilot commenters on James Fallows' blog and elsewhere, and I think it's an important one.
Flight-time, sea-time, any sort of experience requirements aren't just about acquiring skills, competency and encountering unusual conditions. These requirements also put a pilot or mariner or driver "in the system", and give a chance for any (possibility disqualify) quirks to be noticed by coworkers, supervisors, or regulators.
That said, the main purpose of this post is not to suggest what, if any changes should be make to the system of pilot training and qualification. It is merely go give a point of comparison to the standards in a similarly entrusted profession with which I have intimate knowledge.