More on the Jeb Bush-Barack Obama Comparison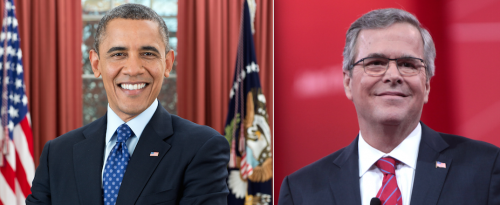 by Dan Scotto
I've gone back and forth with Will Truman on Twitter, who asked me if I wanted to submit some stuff to this site. He told me (warned me?) about how strong the comments section was; the comments on my initial piece about Jeb Bush really proved his point. So that's really great to see!
I'm new here, obviously, but I did want to respond to a particularly thoughtful comment, from Patrick, on my article about Jeb Bush. If I can summarize the broad thrust of Patrick's argument, he asserts that a better similarity to draw between Obama and Jeb Bush is their pragmatic, technocratic outlook on governance, rather than on their ability to seem moderate and reasonable while actually being quite ideological. (Please, correct me if I'm not portraying this accurately!)
First, I will certainly agree that Obama and Jeb Bush share a "technocratic" outlook about government. To both, government is an engine for problem-solving and for shaping society; neither strikes me as particularly skeptical of the exercise of executive power. I agree is that Bush is more of a "technocrat" than, say, fellow candidate Rick Perry, who appears to me to be more skeptical of government generally, and the federal government specifically. In terms of their disposition towards, say, administering the government, Bush strikes me as much closer to Obama than Perry, and I think that this is a useful observation. But I see that as somewhat distinct from ideology and aims, where Jeb and Obama have very different views of the good society.
I also agree with the broad thrust of Patrick's characterization of PPACA:
PPACA, for example, was largely a technocrat's approach to manipulating a market to get an outcome. The outcome was ideological, but if ideology was a major driving force behind Obama the result would have been quite different. The idea that PPACA was designed to drive everyone to a public option twenty years from now is just not borne out by the way the thing works… if that was the plan, it's a terrible implementation because it's too easy to prop the thing up using pro-centrist "bipartisan agreements" in the short term, ten years from now.
I also agree that PPACA wasn't really a stalking horse for single-payer. Still, I think there are a few areas where I differ, and I wanted to flesh those out a bit.
I believe that the aim of PPACA was to get everyone into some sort of "universal" system, so the principle of universal coverage would become entrenched in the American social contract. The details of the entrenchment were far less important than the result. I suspect that Obama would have preferred a more straightforward redistribution from rich to poor for reasons of equity, while PPACA has regrettably hit the lower-middle class pretty hard. But he couldn't pass that law, and desperately wanted to pass something that could be "universal."
Patrick also writes,
Conservatives keep telling me that Obama is a radical socialist, but all this shows me is that conservatives don't know what even a moderately liberal liberal looks like, in ideology let alone preference.
I will acknowledge that some conservatives definitely say that. I don't see Obama as a socialist, and I think that conservatives who go that route are losing the plot a bit. Obama is an ambitious realist who believes in co-opting stakeholders and marginalizing opponents that can't be co-opted. He believes in using the power of government to solve social problems, but believes that he can get closer to his desired outcomes by working through existing systems like the private economy, rather than destroying those systems.
So if I had to label Obama, I would call him a pragmatic progressive consequentialist: he wants to improve things and shift the state of public policy to the Left. That means things like increased redistribution to the poor, increased emphasis on issues of social justice, government direction of the economy towards preferred social aims, etc. Obama has decided that making a positive difference while in office is more important than more nebulous things like inter-branch comity, or tradition, or the separation of powers, or executive modesty, or the rule of law; the means are less important than getting to the right outcomes.
For what it's worth, Obama's consequentialism has become more evident in his exercises of executive authority over the last couple of years. A sample:
The extreme discretion that the administration has employed in enforcing and implementing PPACA has gone way beyond the text of the law. The Obama Administration has essentially run something of an ad hoc conference committee as the executive branch, using executive actions to smooth out the flaws of the bill that should have been worked out in conference. That the plaintiffs have a case in King v. Burwell is just one indicator.
The decision to suspend deportation on so many undocumented immigrants certainly flew in the face of precedent and the use of prosecutorial discretion. What Obama once said he could not do legally, he implemented rather quickly after the 2014 election. One suspects that he would have gone through Congress if the Democrats had retaken either chamber in 2014.
The Obama administration began implementation of "net neutrality"–a fairly aggressive approach to regulating Internet Service Providers–via authorities supposedly granted in an 80-year old statute. Telecom providers have already begun their lawsuits surrounding the action.
None of these things are absolutely illegal, but they all bend precedent, practice, and to an extent, legal text, to get closer to the outcomes he wants. I would acknowledge that Obama has faced substantial opposition from the Congress. But I think Ross Douthat has absolutely nailed the dynamic in a column from November: Obama's "transformative self-image" prevented him from pivoting to issues where he might be able to work with Republicans (as did Bill Clinton), or from essentially giving up and serving as the steward of the executive branch for his lame-duck years (as did George W. Bush).
More broadly on the consequentialist beat, I would also point to Obama's flexible rhetorical positioning on same-sex marriage over the past few years, per longtime Obama advisor David Axelrod's recent book. For Obama, getting elected meant that he could do more good, so fudging his position on gay marriage–even if it meant misrepresenting his personal religious convictions–was justifiable. That's textbook progressive consequentialism, and his consequentialist bent has become more evident as he has gained distance from elections.
So I see these preferences as pretty distinct from Jeb's, at least in terms of where any comparable consequentialism would lead. (I don't know that Jeb is as consequentialist. Generally, a conservative disposition would oppose this sort of consequentialism, but I think it's harder once you become president.) In terms of Jeb Bush, Patrick writes,
The first accomplishment [privatization] is as much a neoliberal response to problems now as it is a conservative one. About the only public service that isn't impacted by large-scale privatization now, nationwide, is public school education, and the states that have pushed charter schools are not reliably in the "red" or "blue" column, so public schooling is the exception not the rule. California has a budget surplus, and it socked it away rather than spend it, and I don't know that anyone would characterize Jerry Brown as "like Jeb Bush".
I agree with Patrick about neoliberalism; Jeb appears out of that tradition. But we do see a conservative tinge to his neoliberalism. For one, Jeb Bush's surpluses were returned to taxpayers via tax cuts, rather than socked away. (I should have mentioned that in my piece!) The Cato Institute evaluated his tenure as such:
Jeb Bush leaves office with a well-deserved reputation as one of the most aggressive tax-cutting governors in the nation. He has proposed and signed into law a tax cut virtually every year of his tenure, ranging from cuts in property taxes to a phaseout of the intangibles tax—a levy on certain financial assets like stocks and bonds that makes Florida's tax code hostile to capital formation. It is the strength of his tax cutting that has sustained his grade through the past eight years; he received an A on this report card for his first term.
Florida has no income tax, so it's a bit hard to analogize directly to the federal level. And Cato docked him some points because of his 2nd term's spending programs. But Jeb was a huge tax-cutter in office.
More broadly, his OntheIssues.org page is a good reminder of his tenure: Bush is a down-the-line conservative on a lot of issues: gun rights, affirmative action, abortion, taxes, free trade, faith-based initiatives, etc. The immigration and education areas are basically the only place where, as far as I can tell, Bush really parts ways from movement conservatives at all, other than in his rhetorical presentation. Maybe his ideology has shifted a bit since his time in office, but on his governing record, Bush is conservative, particularly so as governor for a swing state like Florida.
Lastly, I suppose I should lay my cards out on the table: I am not for Jeb at this point. I think he would probably be an effective president, but considering the scope of executive power exercised in the last two presidencies, at this particular juncture in history, the country would benefit from someone who was a little more circumspect about the exercise of executive power. Jeb doesn't strike me as that guy. (I might change my mind depending on how the field shakes out, but Jeb is not my ideal candidate under any measure.)