How Do We Get People to Stop Thinking They Know So Much Better?
Saul is not happy about Jeffrey's Toys closing down. A theme of his writing is that he's unhappy about a number of things that happen due to economic forces. That is OK.
Where he scares me a bit is that he takes this dissatisfaction and further asks
What is to be done?
and
How Can We Protect Independent Businesses from Increasing Rents[?]
These are natural questions. Here's a right-wing version: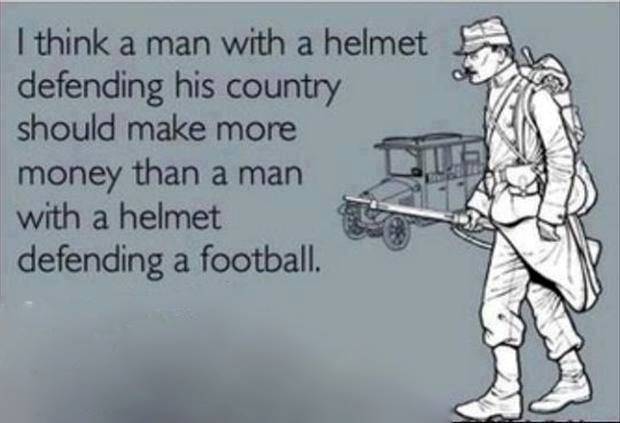 This sentiment makes sense. But what the author of this meme and Saul fail to realize, is what the true alternatives really are.
Saul sees the isolated case of the closing of Jeffrey's Toys as an obvious wrong of markets at work.
The problem is that practically speaking, the real alternatives aren't
markets
whatever Saul thinks is fair and just
whatever soldier-meme guy this is fair and just
Really, our alternatives are
markets
a hyper-politicized process in which everyone from nurses to car mechanics try to competitively moralize about why they should get paid more [Edit: See Addendum]
Perhaps this would ultimately have the desired effects of closing down a few more Walmarts and preserving some things people say they want preserved but don't want to spend their own money supporting like the French do with their movie industry. I would guess that football salaries would also nosedive relative to those of soldiers.
But I don't think what might be gained would merit what would certainly be lost. Market prices can produce ugly results, but they are at least not politically determined. Further, they typically ensure that demand is mostly satisfied and that supply is mostly consumed.
We could choose to set moral prices for things instead of market prices. The energy crisis is what happened when we chose a moral price rather than a market price for gasoline. We're doing the same thing today with water. And we proceed to use it to the point that we break everything. Now, even communitarian hippies say
Urban water users will not change their behavior to conserve water. They may use less water if they can do so passively, as by switching fixtures. But even in a drought, only people who are already ideologically motivated will inconvenience themselves to conserve water. People will need the motivation of high bills to change behaviors.
Those software companies Saul hates do at least expect to extract more dollars out of the space than they rent than they pay in rent. Walmart does have to sell to enough stuff at a low-enough price to convince people it's worth holding their breaths and entering. The result is ugly, but at least you know someone is getting something out of it, even if they are the kind of people who shop at Walmart, work at software companies, and hold NFL season tickets and even if each of those groups are everything that is wrong with America.
Moral prices, in contrast, are subject to the whims of the public. Perceptions of the demographic that tends to share your position might dictate the terms of your employment. You won't make less money than Jeffrey because he did more for others, but because someone decided that Jeffrey was worth writing a sympathetic piece for but you weren't.
I understand the counter that the market doesn't even attempt to be moral. That's how we end up with temp workers having to sign 18-month non-compete contracts [Edit: After this was written, Amazon got rid of the non-competes for all its hourly workers]. I cannot offhand think of a single billionaire who earned his fortune by having a billion dollars worth of moral righteousness within them. But unless we can design an objective engine that computes the proper moral prices that everyone should have to pay everyone else for things, I'd rather stick with the market than the intuitions of men, no matter how well-intentioned they assure us they are.
[Addendum: As multiple commenters have observed, our options are not constrained to wholly market-based pricing and wholly political-based pricing for all things. My labeling the two as #1 and #2 was glib.
That said, each time we choose to decide someone sympathetic is being treated unfairly by the market and decide that there should be a political choosers, we are choosing who and who not to privilege. This is definitionally political and is itself a form of unfairness for those who cannot muster the same kind of broad political support even if they are otherwise doing good work and would make better use of whatever resources they seek.
Each area in which we sacrifice #1 for #2 purely because we don't like the result rather than because we are trying to correct some genuine market failure, we lose something.]