How To Run For Local Office, Part I: The Backstory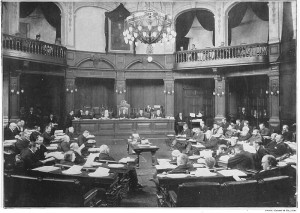 As those reading the sidebar know, I've been under-active in the last several months because I've been participating in the political process by throwing my hat in the ring for my local School Board, that this last Tuesday was the end of that endeavor, and that I managed to get myself a seat at the table.
Insert joke about "the first step to Global Domination".
I thought that folks on the blog would be interested in how this all went down, what I learned about running for office (v. what I already knew), which expectations I had that were met and which ones were wildly off-base, and possibly glean some info about how to replicate the process.
So here we go.
Act I: Preamble (Political History Warning: May Be Dry Reading)
My local school district is a Unified School District, meaning that it serves not just one city.  We used to elect members of the Board "at-large", which meant that every local election a certain number of seats would be up for the Board, and everybody in the District would get to cast a vote for each race that was open at the time.  This used to be common in my home state of California, but not too long ago a politically active group began suing School Districts that filled their Board seats this way, alleging that certain sections of the community were by necessity under-represented under such a scheme.  They were demanding that at-large Districts switch to sub-districting schemes.
This is of course a reasonable potential concern.  If you have 7 Board members, and the 7 Board members is historically "7 White Men" and "0 Everybody Else" in a community that is 20% Latino, 20% African-American, 10% Asian (All), etc., you don't really have a representative Board.  That wasn't the case in my District, we typically had minority and women representation of some sort on the Board, but there was a commonly held idea among the public that there was a "Latino" seat or an "African-American" seat, or that folks behind the scenes were influencing which folks were running for which Board seats to make sure that the Board was balanced between X of these and Y of that with M women and whatnot.  So when it was suggested to the existing Board that they switch to a sub-districting scheme (primarily to avoid getting named in one of these lawsuits) there was public support.
Me, I thought that the idea was at best a mediocre solution to a potential problem.  Everybody in the District would effectively be giving up their vote for 6 other members of the Board, and they'd get to cast their vote for only one of them.  But I can see the argument… already the folks who are most likely to vote in any community are the most well-to-do, largely upper-middle and upper class folks, mostly folks of European descent, skewing towards the older generations.  Sub-districting effectively takes away some of the power of that political block and spreads it out among sub-communities.  On the other hand, it's entirely possible for those same aforementioned mostly upper-middle and upper class white folks to just turn around and gerrymander the sub-districting model if they really nefariously want power, and we know how well *that* works as a strategy, just see… every Congressional district in the country, practically.
At any rate, political science theories aside, that change was made. Prior to the change, every citizen of the District could vote for every Board member, and there were no restrictions on who could run for which seat on the Board, provided you lived somewhere in the District.  After the change, there were 7 sub-district areas, and each registered voter could only vote for the candidate who was running in that sub-district election, *and* only folks who lived in that sub-district could run for that particular seat.
So then came implementation details; there were 7 sitting members on the Board, who were elected in District-wide elections, and now somebody had to figure out how to arrange it so that there were now 7 sub-districts that were geographically representative, socioeconomically representative (hopefully with some sort of sane overlap with the City Council seats) and then the District would have to switch over to the sub-district model.
Without going any further into all the very dry details, it came out in the end that in the 2013 election half of the Board seats would switch to the sub-district model, and in 2015 the other half would switch.  Those currently-sitting Board members who were elected at-large but who lived in one of the sub-districts had a choice… they could either finish out their term in their City seat and then take two years off waiting for the cycle to match up again (or quit politics or move on to another office), or they could run for the newly- created sub-district seat *while* sitting in their at-large seat… and if they lost, they could keep their existing seat… but if they *won*, they would have to officially abdicate their at-large seat and take their new seat as a sub-district School Board member.
With me so far?  (Oh, sorry, unmentioned but implied detail – terms are 4 years)
Turns out that this is precisely what happened.  Four of the seven seats were up for election.  One of the sitting Board members ran for a sub-district seat and won it, abdicated their at-large seat at the swearing-in ceremony, and as a result we now had (a) three Board members who were elected in sub-districts, (b) three Board members who were elected in the last city-wide election who would be replaced in 2015 (hold onto that, there's a hidden surprise detail there that will become important later, really wonky types can guess what the detail is in the comments), and (c) one empty seat.
By the Charter, when you have an open seat (due to death or abdication or what have you), the sitting Board can choose either to have a special election, or create a process by which they appoint someone to fill that seat.  It costs about a quarter of a million dollars to have a special election, and since we're in California we're already underfunded to the Nth degree, so that option was basically a nonstarter as far as the existing Board was concerned… so… although it would be *nice* to have an entirely democratic process of getting a replacement in the seat… they created an application process for that empty seat.
Act II: The Seed Is Planted
Scene I: A Pact
We're now in Summer 2013.  One good friend of mine (I will call him Fernando for the sake of maintaining his anonymity) and I are sitting in the backyard of my house with a bunch of other involved public-school parents while everybody's kids enjoy my pool in the summer heat and we are discussing what the six Board members are going to do to fill that last seat.  In recent political history, there was a character on the Board who was… ah… not universally loved among this group of active public-school parents, and everyone was having terrified visions of the Board appointing a bozo to fill that seat that we would all hate for two years.
Fernando and I are going back and forth about how one Board member can make a big difference and we really hope that they get some reasonable candidates throwing their hats into the ring for the appointed position and both of us start arguing that the other guy should maybe consider being one of the cats whose hats will be thrown, and neither of our wives is objecting that they don't want to be married to a politician strenuously… and the result is two days later after respective Private Family Conferences while Sober, we both submitted applications.  We all (husbands and wives) figured that the worst case scenario is that we're just upping the odds that the existing Board will be less likely to pick a potential bozo in the entire corpus of candidates if we just add as many reasonable folks as possible to the pool.
Turns out, neither of us were selected.  Fernando went on being over-involved in the School District, as did I, and summer passed and fall came, and that was the beginning of the 2013-2014 scholastic year.  As a side note, we both rather liked the person that filled the seat, so everything turned out for the best.  Fernando was about to gut half of his house and I was studying for the screening exam for my PhD, so either of us actually winning the seat would have come with significant side effects on our respective buckets of free time.
(– more forthcoming–)