Fund this post!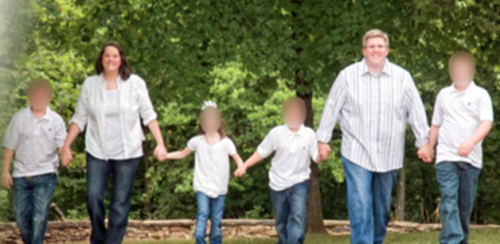 Sometimes you have to dig deep, deep inside the truly bizarre to find the truly… well, bizarre. And it was thus I discovered something entirely unexpected this weekend I was reading through some of the newest breaking news that has come out of the Justine Harris scandal in Arkansas.
If you haven't yet come across the story, it's one of those sensational and outlandish cluster**ks that always seems to happen to political candidates whose fundamental selling point to voters is the politician's prodigious moral character.  Harris is a Republican  member of the Arkansas House of representatives who was know to his constituents for backing bills such as the one that set mandatory Bible instruction standard for state public schools as well as making causing the death of a fetus a felony crime. Part of his election campaign pitch was his walk-the-walk commitment to the latter: he and his wife had adopted three daughters in addition to their three natural children.
In an act that might well be described as either a liberal's or libertarian's nightmare depending upon context, the Harrises bypassed government regulations and simply gave away their adopted children.  (Though not before they had professional photographers take bucolic photos of them all for Harris's campaign literature — something that itself turned out to be illegal.)  All of this was brought to light when one of the men to whom the Harris's gave their adopted children away, an ex employee of Harris, turned out to be a pedophile who raped one of the girls.  Later, Harris used as a defense the claim that the children could communicate telepathically and that one was possessed by a demons. He also stated that since his wife had been diagnosed with terminal pancreatic cancer, he thought the girls would be better off elsewhere — although he did continue to collect and cash state-sent adoption subsidy checks. And because a story about Republican misdeeds in the Obama era just wouldn't be complete without such, Republicans have of course come to Harris's defense (because of course they have); Arkansas's Secretary of State Mark Martin flamed critics of Harris as being "socialist" and anti-"Christian.
All in all, a fairly horrific and depressing American gothic tale.
One of the more obvious and important questions that arose during the breaking of the story was this: where the hell was the sate welfare system when all of this was going on?  In theory, there were numerous places where what Harris had been doing should have been spotted, and even more that should have at least thrown up a red flag.  But by all appearances, none of those things ever happened.  So what exactly happened that allowed the system to break down so spectacularly?
And here is where we get to the second oddity that is coming out of the Harris scandal:
The Arkansas Times, the alternative paper that has been breaking much of the more sensational parts of the scandal, has decided to crowdfund the reporting required to look at Arkansas's child welfare government programs.  I had never heard of such a thing. When I goggled 'crowd-funded journalism,' however, it turnout it's an idea that is being championed quite a bit over the past few years. I couldn't find a lot of examples of what the Times is doing, though. There is one Dutch news enterprise that crowdfunded $1.3 million dollars, but that was for corporate startup costs, not an individual story needing to be covered.
I confess, I am unsure what I think abut this.
At first blush, one might well argue that what the Times is doing is nothing new.  All non-government news agencies rely on the demands of the market to sell journalism, obviously.  Crowdfunding might therefore be viewed as merely a quickening of that process.  And yet I suspect that the differences are more subtle — and more problematic — than this Econ 101 viewpoint.
In the old school model, publishers, editors and reporters work on stories they feel important to the general public interest.  However — and this is important — being in one's interest is not necessarily the same thing as being interesting. For example, it seems likely that the Times will be successful in its crowdfunding pitch since it comes on the heels of such sensational breaking news.  It's also a left-leaning publication and so it's hard to believe that just as Arkansas conservatives might want to circle their wagons around Harris, their counterparts might be as committed to keeping the scandal in the news as long as possible.
But even if I'm right, the Times will be getting funding precisely because it followed on the footsteps of a journalistic equivalent of a car wreck that makes everyone want to slow down to gawk. And therein lies the potential issue.
Much of the best and most important reporting is done proactively.  (Indeed, I bet there are a hundred reporters in Arkansas right now who are thinking woulda-coulda-shoulda about covering child services before the Harris scandal broke.) A lot of these stories are, frankly, boring sounding: possible utility company corruption, telecommunication oversight, inherent flaws in the Departments of Transportation, Commerce, and Education. It's hard for me to imagine most of the important and impactful stories that newspapers excel at bringing to light would have the pre-reporting juice to fund investigations.
In the old school model, you are still dependent upon market forces — but the market judges you on what you have produced.  This new model, if it ever takes off, will ask the market what it wants before any reporting is done.  A detailed analysis of the new proposed spending bill for infrastructure repair, or American Idol recaps?  In depth reviews of the records of those running for State Treasurer, or a new Sarah Palin Watch feature?  Investigating the financial backers of state initiatives and consulting experts about those same initiatives' impact, or a Stupid Crooks column that aggregates the most outrageous news blotter reports from police precincts around the country?
Of course, on the other hand there is this: If the Arkansas Times doesn't get crowdfunding to investigate state child services, will anyone bother to do it at all?
I'm truly uncertain where I stand on this.
[Picture: New York Times reporters, via Wikipedia; photo from Justin Harris campaign.]