My Surprisingly Strong Rebuttal to Saul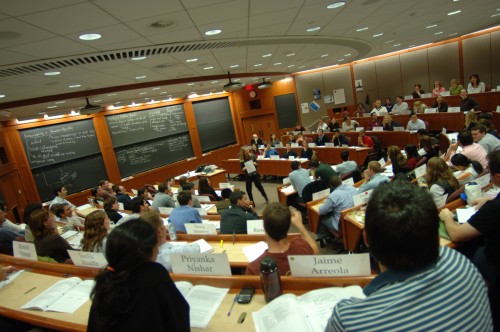 First things first: Apologies up front, as I suppose what follows ought to be in the threads of the Am I Being Too Cynical? Majors Edition by Saul. My response, however, is simply too long to put in a single comment, and to be honest I felt Saul's post and subsequent comments were so ill-conceived as to deserve a pretty categorical and unambiguous rebuttal.  
And so here we are…
Yesterday Saul wondered at a degree program in Entrepreneurship and Innovation by the University of San Fransisco School of Management.  In Saul's mind, such a program can exist for no other reason than to "attract naive suckers prospective students with what is basically a business or business-lite major with a shiny new name."
The opinions on which Saul bases his objection to the program, if I may be allowed to paraphrase on his behalf, are essentially four-fold:
One cannot learn the skills of entrepreneurship and innovation; presumably they can therefore not be taught.  Such a program is, therefore, probably snake oil.
There is already such a thing as a business degree; attempting to teach specialization within that discipline is therefore redundant. Besides, as Saul points out, "many people from USF will start some cool new start-ups but I doubt it will be because they studied entrepreneurship and innovation."
On a more general level, colleges and universities that deign to teach the subject of business at all will suck away the money that the arts and humanities bring into the school.  Majors such as, say, accounting are therefore some kind of financial parasite which sucks away at the teat of, say, the Romance Language department.
Even more generally, classes that don't fall into the arts and humanities departments are a cynical and modern perversion of the mission colleges were originally created to pursue.
Oy. Where to even begin?
Let's take them one at a time:
Myth #1: You Can't Learn Innovation & Entrepreneurship
Saul's first error is to assume that innovation is a skill that cannot be taught — which, in his defense, is a fairly common fallacy.  Creativity and the ability to innovate are talents that even our secular society assumes come to us via the spark of divine intervention; they are skill sets with which we are either born or we are not.
Indeed, much of our mythology is anchored to this belief: Newton being hit on the head with an apple is one example, Mozart writing great symphonies as a toddler is another.  Heck, our belief about Edison's idea for an electric light bulb just coming to him one day while fussing over a gas light in his workshop has itself become the very icon we use to illustrate innovation. However, none of these stories is true in the way we collectively imagine.  As Geoff Colvin points out, Mozart didn't skip the hours other composers did; his dad just crammed them in sixteen-hours-a-day at a very early age. Not only did Edison go through over 6,000 tests of the lightbulb before he found a filament that worked, he wasn't even the guy who really invented it.  And of course the whole apple falling on Newton thing is a fairy tale.
In fact, it's pretty universally agreed upon by social scientists (who are housed in the humanities wing!) that innovation and creativity are learned traits, and that further they not "eureka!" moments but rather lengthy processes. Social scientists also agree that these processes are absolutely taught.
As for Saul's belief that you can't teach entrepreneurship because it's a just buzzword, I suspect that the issue is that Saul isn't aware what the word actually means academically speaking.  Despite it's over-use by pop-business book authors and small government aficionados alike, in academics the study of entrepreneurship is the study of the first few cycles of a new organization, which it turns out really do follow very different rules for success than an established organization. One of the reasons that new, small start-up technological companies began to thrive in the eighties in a way they didn't in previous eras is in no small part because of the growing research on the difference between entrepreneurship models and established-buiness models that was coming out at the time.
Saul might well find all of this beneath him, but if he is going to be successful putting up his own shingle he would be wise consider what this research might have to offer him.
Myth #2: Business Schools Have No Need of Specialization
Saul correctly points out that you can just as easily start your own business — or get an entry-level job at someone else's startup — with a general business degree as you can with the more specialized Entrepreneurship and Innovation degree. I would think that the rejoinder here would be obvious, but on the off chance it isn't…
At the University of Oregon School of Music, where I personally studied music as an undergrad, there currently are no less than twenty four different and distinct music degrees available to students.  My guess knowing Saul is that he has no problem with this, despite the fact that if you want to, say,  play music or teach band in high school for a living you don't really need anything more than a general music degree.  For that matter the same can be said of the U of O's thirty-plus specialized degrees in English — which, by the way, are in an entirely separate department from the Comparative Literature, Folklore, Humanities, Journalism, and Linguistics departments, each of which has at least a dozen different degrees of their own. Similarly, if you are into the visual arts you can get one of more than a dozen separate degrees from either the Art, Art History, Painting, Ceramics, Photography, Sculpture, Digital Arts, Printmaking, Fibers, Metalsmithing and Jewelry, Product Design, Architecture, Interior Architecture, or Landscape Architecture departments.
Why so many degrees? Why not have just an english degree, a performing arts degree and a visual arts degree? For that matter, why not just have one degree in Arts & Letters that encapsulates all the departments listed in the paragraph above?  After all, as Saul rightly points out, what HR manager is really going to give a crap whether you have a Music degree, a Performing Arts degree, or an Arts & Letter Degree when you apply for that job as a customer service supervisor when you're twenty-five?
The answer, of course, is that all of those disciplines are separate and distinct.  They all have specialized skills,knowledge and histories which are unique to them. And each of these academic humanities programs is dedicated to very specific and specialized research.
The same is true of the business school.  Accounting is not the same as marketing, which is not the same as HR studies, which is not the same as advertising, which is not the same as public relations, which is not the same as entrepreneurship and innovation.  Saul might be surprised to learn that, unlike junior business colleges that advertise on television such as ITT Tech, academic schools of business do actual research which is published in peer review journals, just like  "reals" majors.
And as long as we're here, let's add this to the things of which I do not believe Saul is aware: programs in entrepreneurship and innovation are not some new, trendy, fly-by-night marketing scheme devised by silicon valley-adjacent centers of higher learning.  These programs have been around for decades in such schools of business as Harvard, Stanford, the Universities of Pennsylvania and Chicago, and MIT. (I very much doubt you could find a top-100 business school that lacks such a program.)
More fun facts: a surprising amount of the research done by academic entrepreneurship/innovation programs is done for the benefit of public policy programs.  Much of the work by academia being done over the past six years to determine how to successfully integrate government agencies, healthcare providers, and insurers for the implementation of the ACA is in fact being done by these "business-lite"  programs. (Full disclosure: My wife actually worked on one such collaborative research project from '09-'12 .)
In the same way that some whites who never talk to blacks often wonder why African Americans never address black-on-black violence, Saul mistakenly supposes that since he has no interest in learning what a business school program might wish to teach him than it therefore follows that such programs must not actually teach anything. He's wrong.
Myth #3: Business Schools Suck at the Money-Spewing Teat of Higher Learnings Humanities Departments
And to be fair, I'll put this one in Saul's own words for why we should eliminate academic business schools:
"[W]e should have business apprenticeships and return college and university instead of gutting the arts and humanities departments for a climbing wall."
Not sure what to say to this except one doesn't follow the other.
Well, maybe I'll say this: that although I haven't been able to google any studies on the topic, I would be willing to bet that schools of business — which are often well-paid for their research by the government and private businesses alike — are more often able to financially subsidize the humanities departments than the other way around.
Myth #4: Kids Today and Their New-Fangled Business Schools
This, too, is a fallacy.  As long as there have been colleges and universities in America there have been business studies programs.
As an example, here is the 1751 curriculum of Penn State. You will note that one of the disciplines they engage in is "merchant's accounts," which is what the study of business was referred to once upon a time. You should also note what curriculum you will not find: music, theatre, literature, or indeed any type of art save "drawing in perspective" — a discipline which was taught because it was used in the then-very important profession of surveying, which Penn State also taught.
And if you're quick enough on the uptake, you've already picked up on the irony of that last bit — because it means that the one, singular art class taught at Penn State in its salad days of the eighteenth century was taught as a business class.
Look — art and the humanities are tremendously important, and I very much agree with Saul that the study of both deserves more attention, admiration, and funding than either gets today.   But you don't have to choose between a college doing business research and history research, anymore than you have to choose between one doing research on 17th century literature and 18th century literature.
To suppose otherwise is to cross over to the side where I know Saul well enough to know he does not want to find himself:
It puts one squarely on the side of of the anti-educationalists.
[Picture: Harvard Business School class, via Wikipedia.]