A Taxonomy of Homelessness
I am sitting huddled up in the library like a pile of old rags, trying to read a book- an activity that seems to get harder the older I get, or the longer I fritter my time away online. The Internet has a way of inuring you against long-form reading. It's no wonder that active literacy is becoming an eccentricity in our society. I'm still reading a few books a week though. Eccentricity was never a problem for me.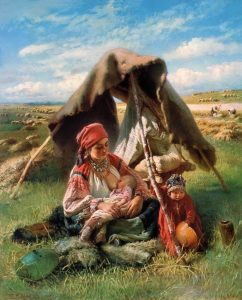 I've claimed my own desk and adjacent to this is a somewhat larger table under which a man is sleeping. He's in his 40s and curled up like an old dog at the foot of a bed, snoozing away. Across the street from the Central Library is the men's shelter and the winos come in every day like they're on shore leave to hang out all day arguing with one another, sleeping in the bathroom stalls, reading comic books, and fighting with creditors on their cell phones. As a result, the library has more security guards than I've ever seen in one of these places and they walk the stacks like prison guards after lights out. Somehow, Sleepy has slipped by unnoticed.
I don't care. He's not snoring and he's not distracting me from my book. Let him sleep. After about a half-hour, he gets up to do something anyway and another middle aged man sits down at the table; this one looks, like many men in this town, not-quite-homeless. Like myself, one step over the line and a few paychecks away from it, a little down at the mouth, but keeping it together for the time being. We both need haircuts, new shoes, and to do laundry, but I've developed a sense of the layers of relative poverty.
After reading books in this library for a few years, I've also developed a mental taxonomy of homeless men. The sleeper struck me as the bristling, angry, and wants to be left alone type. They're fine if you don't interact with them in any way and thereby become the target of their rage (my assumption turned out to be right there). Closely related are the angry theorists– they have many, many opinions about the evils of this society that they will will grumble to you if you show the slightest interest and the best thing to do is pretend to agree. They are looking to interact. This only becomes awkward if they're looking to start a fight with the librarians and want allies. Next, you have the guy who looks like he just lost something and is bewildered; if you so much as glance at him, he will tell you that he just had money to get home and now it's gone and could you please help him? Very few of these men will ask you for change. Then you have the bristling, angry but looking for a fight now types.The only real difference between him and the first sort is they generally don't want to fight and he does. It's harder to avoid trouble with this sort because they will try to pick a fight even if you leave them alone. Next, there are the toilet stalls campers; never quite figured that out, although I think it's another place to sleep. There are the town news sources– strangely enough the homeless community has its own gossips. Finally, there are the blatant lunatics who are talking to themselves about things inside their heads. They only make up a small percentage of the shelter men who come in here. In general, pretty much all of these men are angry. They are all suffering. Almost all of them are very clearly dealing with drinking problems or, less often, drugs.
After a bit, Sleepy returned to find his table occupied and quickly became the angry-and-looking-to-fight type.
"Why are you here?! This is a library!" he yelled at the newcomer.
"Excuse me. I'm doing my work."
"That's a laptop. Go home! This is a library! It's not for people with laptops!"
"You go home! I have a right to be here!"
"Fuck you! This place is for people who read books!" A rather aggressive literacy campaign, I thought.
"No, fuck you! Leave me alone!"
"Go home, you fucking Paki!"
"Hey! Shut-up! I'm First Nations!"
"What?! What is that supposed to mean?! First nations?!"
"Leave me alone!"
At this point, I asked the guy to please be quiet and someone else went to get the security guard. He snarled at me too and fought a bit more over the table, but must have judged the situation well because he left a few minutes before they got there and took statements from the First Nations fellow and me. This might sound like a bizarre encounter, but I see someone get kicked out, or fight with a security guard, or start brawling with someone else nearly every time I go to that library. And yet, I still go there whenever I'm not working.
I feel comfortable there. I'm sure much of this comes off as insensitive, although it's simply an attempt to record the reality of this place and time as accurately as I know how. I know people who don't go to that library and avoid that part of downtown because they feel uncomfortable with the booze hounds and druggies that congregate on certain blocks. They tend not to know very much about those men or talk much about the subject if they can avoid it. It's unpleasant. It's not a polite subject to speak about. Until, that is, we start talking about the real estate boom and gentrification that is also going on in that section of town; then, they're quick to tell you how much "safer" it will be when the "crackheads and hookers" get forced out. And they will. The police presence there has increased dramatically in the last few years. The shelter is slated to move elsewhere. There are several luxury condo developments under construction and many migrants from Toronto seeking a cleaner, safer version of Toronto with cheaper deals on vintage clothes.
I prefer the winos, frankly.
The truth is, I was pretty close to that state last year, when I was sleeping on friends' couches and going through the pain of a divorce and loss of my old life with the help of more than a few vices. I spent a lot of time wandering around those neighborhoods slowly and carefully, like I was holding a cup filled to the very rim with sorrow and trying not to spill a drop. And now, I'm here in my apartment instead of there. In the end, I think I just had better friends and was just better socialized than those men. Socialization means wearing the suffering on the inside instead of the outside.
Sometimes it hurts to be human. Sometimes a lot. Being alive necessitates suffering, as a man in India said 2,500 years ago, along with every single Irishman ever. If life is not suffering, it sure feels like it. The tragic element is we know what we're allotted in this existence and still want more.
We don't deal with this part of life- the spiritual part that is so often painfully at odds with our society, to whatever extent we could honestly be said to have a society anymore. We don't deal with psychic pain. We don't go through it together. Instead, we find stopgap measures for those in catastrophic situations, so they can sleep under the tables in libraries rather than freeze to death on the streets. Otherwise, we try to ignore them until they get loud enough that we have to call security.