On The Evolution Of Weapons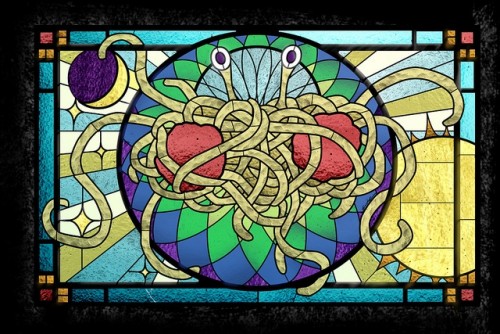 I'm sure many of you remember the invention ("creation?" "shut up") of The Flying Spaghetti Monster back in 2005. The gist of the creation story is this: Kansas was trying to include "Intelligent Design" as part of its science curriculum. A young student named Bobby Henderson wrote an open letter in which he mentioned how his belief in the Flying Spaghetti Monster's creation of the universe deserves equal representation in the classroom. The meme took off and now you can see FSM merchandise everywhere you go.
Interestingly, the Flying Spaghetti Monster has evolved since its creation. Originally intended to be an argument against including stuff like ID in science class, it's now quite regularly used as criticism against theistic religion in general. To be sure, Bobby Henderson has said "I don't have a problem with religion. What I have a problem with is religion posing as science. If there is a god and he's intelligent, then I would guess he has a sense of humor." And that's great… but the meme does not belong to him anymore. The meme has since evolved into a modern (and much more jagged) Russell's Teapot. Even though it was originally designed (intelligently, even) to be an argument against this one particular thing, it has since become an exceptionally effective rhetorical device against Christian articles of faith. (As I've seen it used, anyway. I've never seen it used against other faiths but it's not like I'm marinating in any culture but a primarily Christian one with occasional visits to atheistic/antitheist ones.)
I've seen (and been on the other side of!) the argument that the Flying Spaghetti Monster shouldn't be used as a criticism of theism in general, just of social policies based on theism. But, as I've argued then and argue now, should/shouldn't ain't got nothing to do with it. This rhetorical device was not only good at arguing against this one thing, it was so good that it was weaponizable. It shouldn't be a particular surprise that it was weaponized.
Another example of tools being used in new and different areas would be the tools of postmodern criticism falling into the hands of the post-structuralists who went on to wage the short-lived "Science Wars". Now, the Science Wars were a period in the 90's in which the sciences were criticized for their pretense of value-neutrality making accusations of hidden bias (including racist biases, sexist biases, and so on). These tools and arguments have since been picked up by Climate Science skeptics who use similar arguments to question what's *REALLY* going on behind the claims of Global Warming/Climate Change. (I'm sure you also remember me telling stories of these tools being used by Young Earth Creationists to question whether the Old Earth Evolutionists have a hidden agenda as well.) Indeed, Bruno Latour (one of the heavy hitters of the social critique of science) has gone on to write an essay (warning: PDF (additional warning: really, really good… seriously: read it[/efn_note] expressing his regret that he recognizes the criticisms now being used to undercut the climate scientists as coming from the social criticism arsenal. ("Of course conspiracy theories are an absurd deformation of our own arguments, but, like weapons smuggled through a fuzzy border to the wrong party, these are our weapons nonetheless." (He used that word. "Weapons."[/efn_note]
It's my position that if he is surprised (it's not clear), he shouldn't be.
For my third example, (as I'm sure also won't be a surprise to you) I'm now going to look at "privilege" as a concept and weapon in discussion. Of course, when it was brought out, privilege was originally intended to be a lens through which we were supposed to see such things as racism, sexism, heteronormativism, neuro-typical normativism, ableism, cis-gender normativism, and so on and so forth (put on there in no particular order). It was intended to get able-bodied white male cis-het people who aren't on the spectrum (or people who are two or three or four or five out of those) to realize that they make assumptions about their own experience and universalize them wrongly. Not everybody can walk into a bar, go to the bathroom, use a urinal, and then check their hair in the mirror. The folks that make the assumptions that anybody can do such a thing (or any number of things) need to check their privilege. While it's true that the first time those words were put together was not in an attempt to win a particular fight, the first time that they were? WHAMMO! The argument was won! That was, like, a "win argument" button. (Sadly, I can't find the earliest examples of this weaponized argument being used, I have found this post which might be the first time that checking privilege as a phrase was used and this list of privilege lists from Alas, a Blog. The earliest argument (that I was able to find, anyway) against using "check your privilege" as a weapon was here (at, notably, a progressive blog (or, if it's not progressive, it ain't conservative and it ain't moderate[/efn_note].)
It wasn't surprising that people noticed the power of this tool… and it was even less surprising to see the phrase start to get used a *LOT*. At first, a gentle call to get people to remember that not everybody has the opportunities enjoyed by the most privileged. Hey, most of us don't. Then, a reminder that not everybody has the opportunities enjoyed by the very privileged. Or the middlingly privileged. Or the somewhat privileged.
Instead of privilege being something that people were supposed to acknowledge before they did or said something thoughtless, it became a way to force your opponent to a poorer foothold in any given argument. We've made jokes, for example, about the "Oppression Olympics" for when it comes to who is allowed to criticize whom about what, which then gets transmogrified into privilege within a particular argument. Who is allowed to claim that the other is more privileged? Who is claiming some degree of oppression that, seriously, they shouldn't be?
(If you'd like some examples, I happen to have some. Recently, in the debate about same-sex marriage, we've seen the fights that started up when, say, the debate over same-sex marriage was compared to the debate over inter-racial marriage that was held in the 60's. "Being black is nothing like being gay!" "Bigotry is bigotry!" "Gay people can pass!" "So they shouldn't be allowed to marry???" and so on and so forth until one could reasonably wonder if the comparison was originally created as an oblique "let's you and him fight" call to action. (Heck, we've had recent enough scuffles mentioned in our very own comments here.[/efn_note]
This has gone on long enough for this useful concept to become something more analogous to original sin (but, say what you will about original sin, it didn't have *DEGREES*). People without privilege become more righteous and people with it are sinners.
How it was originally intended to be used has since become weaponized.
More than that, it not only had early success, it's also fairly easy to use. In many arguments between people most inclined to argue such things as privilege in comments on blogposts (or on twitter or tumblr or…), it's quite possible to come up with ways of how one's opponent has experienced unexamined privilege… and somewhere on the continuum, really good examples of unexamined privilege morphs into really crappy examples of unexamined privilege. Thin privilege. Attractiveness privilege. Privilege associated with this or that subculture. And because it's so easy to use, each person is able to argue for his or her own marginalization in at least one arena. I had it rough. I didn't date much. I was a fat kid. I was an ugly kid. I was a nerdy kid. I was a this kid or a that kid.
Remember Eminem's big finale at the end of 8 Mile? (Not entirely safe for work)
Don't ever try to judge me, dude
You don't know what the f*** I've been through
But I know something about you
You went to Cranbrook, that's a private school
What's the matter, dog, you embarrassed?
This guy's a gangster? His real name's Clarence
And Clarence lives at home with both parents
And Clarence's parents have a real good marriage
Intact family privilege. Happy parents privilege.
At some point you're stuck asking whether liking the same stuff that most of the culture likes is a kind of privilege… and then arguing against the most passionate people who are arguing that it is or that it is not.
Entertainment privilege. Popular culture privilege.
And we can't tell a nerdy (white, male) kid who is consistently bullied in school and probably won't date until college that he still has a lot of white privilege and male privilege because… well… he's consistently picked on and (let's face it, he's on the spectrum) we can't tell him that some of the jocks picking on him have a lot less privilege than he has because that'd be yet another example of the opening ceremonies of the oppression olympics, it's also an argument that will have absolutely zero purchase.
Height privilege. Strength privilege. Popularity privilege.
Which gets us to the point now where the concept of privilege has been weaponized so that discussions of privilege are no longer useful to help address the issues of historical oppression that discussions of privilege were originally attempting to combat. Instead of a tool that could be used to make these conversations more fruitful and to help the privileged see things from a new perspective, it became something that could not only shut any given discussion down but a weapon that is as likely to fit in the hands of ideological opponents as anyone and in becoming so, it has become just another weapon in the culture war.
The privilege of accusing the opponent of being privileged.
This, also, should not be a surprise.
(Picture is "The Flying Spaghetti Monster" by John Dill (though the art itself is by Sarah Pierce), used under a creative commons license.)