True Objection: Gun Rights Edition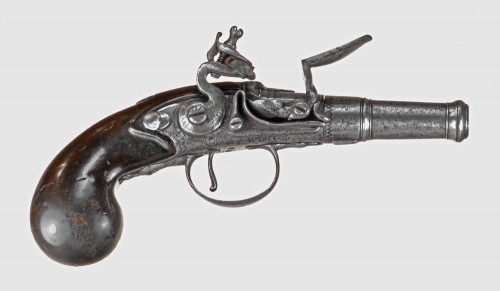 by Mad Rocket Scientist
On the last Linky Friday, LWA and I started to have a back and forth regarding the carry of arms in the modern US society.  Rather than go around and around well trod territory once again, I figured I would offer up a post detailing my True Objection to the banning or effective banning of personal arms ownership and carry.  Likewise, I offer up the comments section for everyone else to lay out their True Objection to liberal gun rights, or significant gun control.  I won't disparage anyone's objection, although I would suggest that everyone at least try to find the negative of their objection and own it.
At my core, as everyone knows, I lean heavily left-libertarian.  As such, I have a high, philosophical bar that has to be cleared before the government can outright or effectively ban anything.  Add in the fact that the ownership of arms is laid out in our foundational legal documents, and the relatively recent SCOTUS rulings affirming the right to arms, and that bar gets even higher. Any government regulation[1] regarding the possession and usage of personal arms must also clear a high bar.  This is irrespective of whether or not I personally find the ownership of a given arm, or the manner of usage of an arm, to be stupid, idiotic, annoying, or otherwise a REALLY bad idea[2].  Allowing that bar to slip lower for things I find personally distasteful is a camel's nose, paving the way for similar arguments and justifications to be used to ban or limit other rights which I feel are important that other people find distasteful.
On top of that is my personal belief that we are all responsible for our own safety.  This is bolstered by my knowledge that police forces are not always nearby, and even if they are, the individuals that respond are not obligated in any legal or ethical sense to place themselves in harms way or to actually save anyone's life.  They may have a personal, moral obligation to do so, but I can't count on that.  As such, part of how I try to implement a degree of (imperfect) safety is by owning and knowing how to safely use firearms, as they represent the best means to halt an assault that is currently available[3].  If a person, who is legally allowed to own a firearm, wishes to carry one for personal defense, for whatever reason, then as long as they have not demonstrated that they are incompetent or otherwise a public nuisance/danger, I have no issue with them doing so[4].
This is what I believe.  Other gun owners have other beliefs, many of which I don't share.  I thank you all to not ascribe those beliefs to me.
So, what is your true objection?
[1] This does not mean I object to any and all regulation.  There is some which I think is just fine, or at the very least represents a minor impediment to the exercise of the right while meeting a legitimate government interest.  A background check won't stop a felon from getting a gun anymore than a suspended license will prevent a person from driving, but since the government has a legitimate interest in keeping people who have proven themselves a danger away from firearms, and the check is pretty quick, it's fine by me.  Likewise regulations regarding the ownership of explosives, since the improper care and handling of explosives can represent a significant danger to a large area.
Also, I don't have an issue with training requirements, as long as everyone keeps in mind that such requirements are not a cure for stupidity.  We all take drivers ed and pass a driving test, and yet the roads are packed with idiots who can not manage to use a turn signal or check a blind spot.  Mandatory firearms training will help many people, but there will always be a percentage who take the course just to get the certificate, and don't actually learn anything.
That said, a lot of firearms regulation, especially BATFE regs, are arbitrary and capricious and serve no legitimate purpose.  The laws in a lot of eastern states (NY, NJ, etc) are especially bad, and BATFE issues could be a post all on it's own.
[2] See: Those open carry idiots in Texas (and elsewhere).  Or any gun rights rally where you'll always find some number of couch commandos showing up in pseudo-tactical kit (complete with utili-kilt, etc.).  Or anyone who decides to carry without getting training, understanding the law regarding the carry of arms, having the correct equipment (good belt, proper holster, etc.), and having a good, long hard think about why they want to carry and what that means.
[3] Most people are fine with rifles and shotguns, but have issue with handguns.  I get this, I really do.  To be perfectly honest, it's long past time that something better, and less lethal, than handguns was brought to market.  I keep an eye on a lot of the less-lethal options out there (because I want one) and they all suffer from both a lack of imagination and effectiveness, or support in the law.  Tasers are single shot, so if you miss.., and they don't work on everyone (they cause pain, but if your personal resistance is high enough, they won't interrupt the voluntary nervous system much, which will let you rip out the barbs or attack the person tasing you), and like rubber bullets and bean bag rounds, they can be defeated by heavy/thick clothing.  Pepper/Mace rounds can be ignored by the target, and run the risk of blowing back on you.  Other options suffer from similar shortcomings.  Honestly the most promising round I've seen to date is this one.  I can imagine a few small changes (a round, hard rubber core; longer wire; lighter powder charge, etc.) that would turn this round into a short range, less-lethal tangle round.  Get hit with three or four of these, and you'd be hurt and busy getting untangled, but alive while I ran away very fast to call the police.
Regarding the lack of support in the law for less lethal options – my understanding is that this stems from the (in my opinion, mistaken) idea that if everyone was packing tasers, the fact that tasers are usually not lethal would result in everyone tasering everyone else at the drop of a hat.  This is patently ridiculous and can be easily addressed with assault charges if the use of a less lethal option is not justified, just like we do with fights.
[4] This falls under the idea that "need has got nothing to do with it".  We all make personal choices regarding our wants and needs that others find mystifying.  The review of these choices by government officials should be a rare and carefully considered thing.  Typically we temper such choices with the law.  I don't understand why anyone would want to own a Bugatti Veyron in the US, but I know that if they choose to drive it on a public highway, they best not go over the speed limit or drive recklessly.  That person that carries a firearm for personal defense may live in a high crime area, or work in a high crime area, or have to travel through a high crime area, or etc. ad. nauseum.  I'm not going to judge their reasoning and rationale.  I will judge their care and competence should they give me reason to believe it's in doubt.