When Text And Context Collide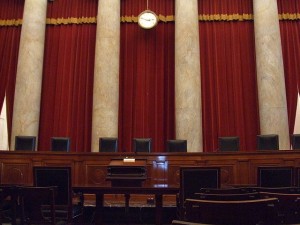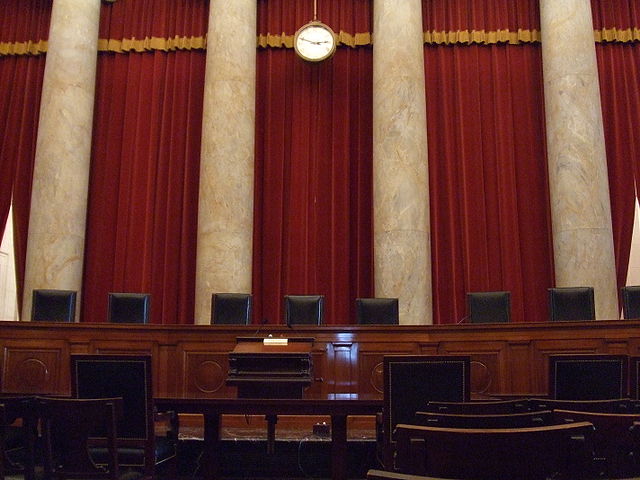 I must confess, at the threshold, that I have never once understood the apocalyptic hullabaloo surrounding the Patient Protection and Affordable Care Act of 2010 ("PPACA" or, more informally, "Obamacare"). And consequently, I have some difficulty really understanding, on an emotional level, what's motivating the case that will be argued before the Supreme Court on March 4, 2015: King, et al. v. Burwell, et al. This post represents my best effort to put the case in legal and political context.
At the center of the case is a section of the PPACA codified at 26 U.S.C. § 36(B). It's a rather intricate statute so I won't reprint it in full here; in two places (26 U.S.C. §36B(b)(2)(A) and (c)(2)(A)(i), it uses a phrase, "established by the State," which becomes the crux of the argument. The response is to ask the Court to look at the law as a whole, and that's where I begin my run-through, because it's hard to understand the phrase at all in a vacuum.
Obamacare
The very basic structure of the Patient Protection and Affordable Care Act of 2010 has five principal component parts, each of which sort of stands up on its own but when taken as a whole, presents a legislative overhaul of the existing law and market conditions which would seem to have a plausible chance of working together reasonably well for the intended purposes of making more health insurance coverage available to more people for longer into the future:
Individual Mandate: individuals must have health insurance for themselves and their families. Those individuals who do not have health insurance must pay a penalty on their annual income taxes but can avail themselves of minimal, emergent care in limited situations.
Employer Mandate: employers must provide their employees with health insurance, at levels of coverage and premium contributions phased in over time and graduated based upon the size of the employer. By 2018, most employers of 50 or more employees will need to provide what is now known as "bronze" coverage with tiers of employee contribution levels.
Underwriting Reform: most pre-existing conditions can no longer be used by an insurer to decline an application for coverage altogether; while this does not mean that insurers must ignore those conditions as risk factors when setting premiums, there are upper limits to which this can be applied and available premium subsidies must be applied for higher-risk insureds.
Medicaid Expansion: the economic threshold for Medicaid eligibility was to be raised and the kinds of treatments covered by Medicaid was to be expanded; as Medicaid is administered on a state-by-state basis, PPACA offered a carrot in the form of an increased grant of money to states that adopted the expansion and withholding all Medicaid grant money if the state did not.
Subsidized Exchanges: states may elect to create insurance exchanges by which health insurance applicants may be pooled and aggregate risks, thus enabling lower premiums; if they do so, the state will receive a subsidy from the Federal government to reduce those premiums. Individuals living in those states which do not so elect may participate in an exchange created and subsidized by the Federal government.
To listen to the political talk about this law, one would think that it was the imposition of overt dictatorship itself, the ruin of the Republic, an iceberg of tyranny upon which the ship of liberty shall sink to the bottom of the briny sea of Constitutional despair as Montiesquieu and Locke figuratively groan in posthumous agony to see the children of America's Sons of Liberty crushed thus under the heavy boot of an interventionist governmental bureaucracy hell-bent upon exerting power for its own sake by way of micromanaging ordinary citizens' deeply personal decisions.
Whether such rhetoric was ever actually believed by anyone or not, the Republican-controlled House of Representatives has engaged in the bizarre spectacle of voting to repeal the law more than fifty and perhaps as many as sixty-seven times since passing it (as of the date of this posting); none of those repeal votes have passed the Senate and a repeal that passes the Senate would have to survive a veto. There was also an attempt to defund the implementation of the law that for about a month in 2013 threatened to shut down the entire government.
To me, it sounds like it's going to be pretty expensive; the law's advocates have suggested that this will be less expensive than doing nothing would have been (see page 44 of the link), at least in the long run, and I lack sufficient expertise to evaluate whether that's true or not. But whether it's dangerous to the national debt or not is one thing; but this doesn't seem to be to be particularly dangerous from a liberty perspective as far as I can tell. And so far, the Supreme Court mostly, but not completely, agrees.
In National Federation of Independent Business v. Sebelius, 567 U.S. ___ (2012), 132 S.Ct 2566, the Court split into three different majority blocs addressing claims that Congress exceeded its powers in passing the individual mandate and Medicaid expansion facets of the law. The Court split badly on the various challenges to the Constitutionality of PPACA brought before it.
You can wade through the details of what each part was, and what each part opined, and where and why each dissent or concurrence would have reached other conclusions. But I've done the hard work there for you. Boiled down to its very essence, NFIB v. Sebelius held that 1) the individual mandate is not a proper regulation of commerce 1 but is an appropriate exercise of Congress' power to impose taxes; and 2) the "stick" portion of the Medicaid expansion "choice" left to the several states was so coercive as to deprive them of a meaningful political choice and was therefore invalid.
So where this leaves us, in 2015, is that many employers are now required to offer health insurance, and all individuals must have it or pay a tax penalty. If you buy your insurance through an exchange, you may be eligible for a tax credit in an amount that rises or falls on a sliding scale based on your income – the "affordability credit," which is the form that the subsidy takes. A little bit less than half of the states have no exchange, so the Federal government offers one in their place. Section 1321 of PPACA authorizes the IRS to establish the Federal exchange.
The Petitioners' Argument
King and his fellow petitioners are residents of Virginia, a state has opted to not create its own exchange. They argue as follows:
Critically, the Act only subsidizes coverage through an Exchange established by a state. It provides that a credit "shall be allowed" in a certain "amount," 26 U.S.C. § 36B(a), based on the number of "coverage months of the taxpayer occurring during the taxable year," id. § 36B(b)(1). A "coverage month" is a month during which "the taxpayer … is covered by a qualified health plan … enrolled in through an Exchange established by the State under section 1311of the [ACA]." Id.§ 36B(c)(2)(A)(i) (emphasis added). Unless the citizen buys coverage through a state-established Exchange, he has no "coverage months" and so no subsidy. Confirming that, the subsidy for any particular "coverage month" is based on premiums for coverage that was "enrolled in through an Exchange established by the State under [§] 1311 of the [ACA]." Id. § 36B(b)(2)(A).

…

There is no legitimate way to construe the phrase "an Exchange established by the State under section 1311" to include one "established by HHS under section 1321." Congress expressly contemplated both state-established Exchanges (in the first instance) and HHS-established Exchanges (if states refused to establish their own); because it specifically singled out for subsidies one type, and only one type, courts must give effect to that plain language. (Petitioner's Opening Brief, pg. 3, 11, empahses in original).
They argue that Congress passed the law in this way to encourage states to establish Exchanges. The very fact that the law discusses what happens when a state refuses (or fails) to establish an Exchange, King argues, indicates that it knew full well not all states would do so. So when the IRS began to interpret PPACA to apply tax credits to enrollees under the Federal exchange, the section 1321 exchange, it contradicted the black letter text of the PPACA itself, and therefore it may not extend the tax credits to enrollees under the 1321 exchange:
Put another way, the IRS Rule allows subsidies for coverage purchased through the federal Exchange, known as HealthCare.Gov, rather than just for coverage purchased through state-run Exchanges. (Petitioner's Opening Brief, pg. 6).
From there, King indicates that if the IRS considers a taxpayer eligible for a subsidy but the taxpayer does not purchase insurance, the taxpayer is subject to a penalty. That is King's injury – he must either buy insurance (either by way of accepting an illegal subsidy, or paying more than 8% of his annual income for it) or he must pay a tax penalty. For King, apparently, he can't even when faced with this Hobson's Choice, so he's asking the Supreme Court to grant him relief.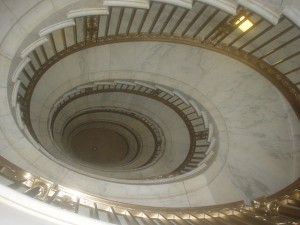 The relief he requests is a declaration that the IRS's interpretation of the subsidy rule is invalid. Finding this proved to be a difficult bit of digging around in my research, as the petitioner's brief nowhere describes the relief requested – one of many somewhat odd things about that brief. (The oddest was a really long summary of argument. It seemed like dozens of pages when I read it. The summary was strangely free from legal citations, yet densely verbose. And most oddly, it appeared in the middle of the brief, rather than towards the beginning of the argumentative portion of the brief where I would have expected a summary).
Also, while there is often a fair amount of citation to the Congressional Record in statutory interpretive cases, it's a little bit more unusual to see a higher-level analysis of the political blow-for-blow, the horse-trading and compromises inherent in the wrangling-through of difficult and complex legislation. But the Petitioner's brief gives quite a lot of inside baseball, naming particular Members of Congress who raised particular objections to particular terms of the bill in its earlier permutations, so as to explain why the law in its final form reads the way it does. I don't know if the brief is accurate in what seems like a more journalistic than legal analysis; what I can say is that a big portion of the brief reads like something I'd expect to find in The Hill or the FedPage section of the Washington Post rather than a brief to SCOTUS.
It took drilling down to the Fourth Circuit's opinion to which certiorari was granted, before it was clear to me what King had asked the Courts to do in the first place. "[King et al.] bring this suit challenging the validity of an Internal Revenue Service ("IRS") final rule implementing the premium tax credit provision of [PPACA]."2 More about this later. For now, it's enough to know that's what the Petitioners argue.
Stakes
So, if the petitioners are successful, that will mean that the federal government can no longer subsidize the insurance premiums of Obamacare enrollees in states that have not adopted their own exchanges. Under the petitioners interpretation, the federal government may only issue subsidies to people and rolling in exchanges that have been created by the states in which they reside.
Where are these people, and how many of them are there?
As of about three weeks ago, twenty-eight states and the District of Columbia have adopted the Medicaid expansion in one form or another. Seven (Alaska, Missouri, Montana, Tennessee, Utah, Virginia, and Wyoming) are still actively debating the matter in their legislatures and fifteen (Alabama, Florida, Georgia, Idaho, Kansas, Louisiana, Maine, Mississippi, Nebraska, North Carolina, Oklahoma, South Carolina, South Dakota, Texas, and Wisconsin) have opted not to adopt the Medicaid expansion and appear to have no viable political agenda to reconsider that decision. Moreover, not all the states have opted to expand their Medicare coverage to the extent necessary to receive the full PPACA subsidies and grants.
These numbers and lists are different from those cited in the briefs, and I am at a bit of a loss to explain why that should be the case.
Something assuring the number of people is complex, at least without data mining a tremendous number of insurance policies. Fortunately, someone has already done that work for us. According to the Kaiser Family Foundation, 13.4 million people in thirty-seven states would have their subsidies reduced or eliminated if the Court sides with the petitioners. That's about 3% of all Americans.
So why shouldn't they lose their subsidies?
The Government's Argument
In response, the Government has argued that the Obamacare provisions are treble (individual mandate, underwriting reform, and subsidized exchanges), rather than quintuple in number as I have summarized the law above. These provisions are "interlocking" and "interdependent" such that the figurative stool is rendered unusable without all three legs supporting the weight of the policy.
There is a substantial discourse on the economic history of health insurance before PPACA, noting that underwriting reform, on its own, created unsustainable spirals of rising claims payouts leading to rising premiums leading to reduced enrollment leading to still higher premiums. Our Tod wrote about this a year and a half ago. It would be helpful to get a look at Our Tod's surprisingly interesting primer on the philosophy of underwriting before reading Tod's policy explainer because it turns out a lot of what makes insurance work is not particularly intuitive. And apropos of Wednesday's case, the concepts in Tod's primer are referenced at some length in the Government's brief.
The Government contends that "16 States and the District of Columbia have established Exchanges for themselves, while 34 States have opted to have HHS do so in their place." Respondents' Brief, pg. 11. That's a rather clumsy bit of epistolary sleight-of-hand: the States did not opt to have the Federal government act on their behalf – it's pretty clear from the politics surrounding the implementation of PPACA that the states that haven't set up exchanges did not so "opt." They wanted nothing to do with PPACA.
Uncharitably, one might point out that nearly all of these states are controlled in substantial part by Republicans reflexively opposed anything that this President does. Charitably, one might suggest that the leaders of these states saw the Federal government, perhaps with good intentions, overstepping traditional boundaries of federalism and allocation of certain decisions and powers to the several states. Regardless of the degree of charity which one assigns to the motives of the several states that have no PPACA exchanges, or exchanges which only partially meet the PPACA requirements, it's pretty clear that none of them "opted" to have the Federal government act on its behalf.
The brief gets stronger, though, when it addresses that section of PPACA that authorizes the federal government to create an exchange where a state fails to do so. It also relies on the statue's definition of the term 'exchange' to conclude that a federal exchange is, for all intents and purposes, the same as a state exchange, the same as the exchange that the state is (admittedly toothlessly) mandated to create. There is a deep analysis of excerpts from the Congressional Record offered for the purpose of indicating that a variety of lawmakers all contemplated nation-wide subsidies, not a patchwork of some states opting in and others opting out.
There is a discussion about how insurance is intended to pool risks, pool premiums, and pool payouts, for mutual benefit, and how the larger the pool of participants becomes, the more effective it is. So without nation-wide subsidies, the participant pool declines significantly, and particularly in the very zone of people who, ostensibly, the law was intended to benefit. In other words, if the law were to be interpreted as King urges, the law would be rendered a nullity at best, or contradictory to its purpose at worst.
It's a pretty convincing argument about examining the statue not just with a narrow, laser focus on a single phrase, "established by the State," but rather to look at the statute as a whole. But what's in the brief is not nearly so striking to me as what's not in the brief. Again, more about this later.
There's three doctrines the Court might use to resolve the dispute: the canons of statutory analysis, Chevron regulatory interpretive deference, and Article III standing.
Modes of Statutory Analysis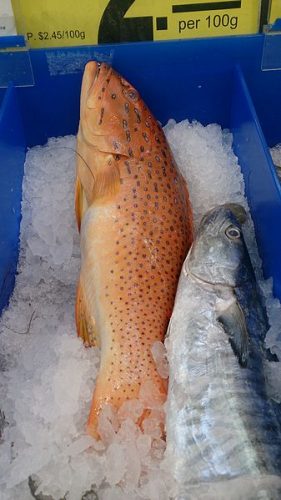 In the very recent decision of Yates v. United States, the Supreme Court was asked to interpret the phrase "tangible object" in the Sarbanes-Oxley Act and determine if it applied to a spoliation of physical evidence (a commercial fisherman threw undersized fish overboard in the middle of a poaching arrest). Chief Justice Roberts, Justices Stephen Breyer and Sonia Sotomayor joined an opinion authored by Justice Ruth Bader Ginsburg delivering the Court's ruling. Justice Samuel Alito wrote a separate concurrence, joining in the ruling. Justice Elena Kagan wrote the dissenting opinion, joined by her Brother Justices Antonin Scalia, Anthony Kennedy, and Clarence Thomas.
In the popular mind, the Justices are fragmented into a "conservative" bloc of the Chief, Scalia, Thomas, and Alito, with Kennedy usually but not always joining that bloc to form a majority; and a "liberal" bloc of Ginsburg, Breyer, Sotomayor, and Kagan. So to see the Chief and Kagan seemingly switch sides, and Alito serve as the apparent swing vote,  in a case involving pure statutory interpretation, rather throws most analysts for a loop.
That's perception. Reality is different: the Nine don't always behave this way and indeed, they often act unanimously and when they do fragment, it's along the conservative-liberal fissure maybe half the time and then only in higher-profile Constitutional cases. So perhaps we ought not be so surprised that Yates provides a different lens through which we can examine their actions: a lens important for King v. Burwell because like Yates, King involves interpreting a statute rather than the Constitution, and less well-understood rules apply there.
The Ginsburg bloc in Yates took the political history of the Sarbanes-Oxley Act's origin into account, noting that the section of the law in question was a specific reaction by Congress to Arthur Andersen LLP's shredding and electronic destruction of documents during the criminal investigation of AA's client, the then-collapsing Enron Corporation. Oddly, before Sarbanes-Oxley, it had been a crime to induce another person to shred evidence, but not a crime to actually shred.
Noting that "identical language may convey varying content when used in different statutes, sometimes even in different provisions of the same statute", Yates slip op. at 8, Ginsburg set out a statutory interpretation doctrine:
Whether a statutory term is unambiguous … does not turn solely on dictionary definitions of its component words. Rather, the plainness or ambiguity of statutory language is determined not only by reference to the language itself, but as well by the specific context in which that language is used, and the broader context of the statute as a whole. Ordinarily, a word's usage accords with its dictionary definition. In law as in life, however, the same words, placed in different contexts, sometimes mean different things. Yates slip op. at 7, internal edits and citations omitted.
Applying this doctrine to the Sarbanes-Oxley Act, Ginsburg casts about for contextual clues to aid in understanding the meaning of the phrase "tangible object" therein. She looks at the dictionary definition of the individual words and the logical meaning of putting them together (where the government urged that she stop). She compared the use of this phrase in Sarbanes-Oxley to its use in other laws (Federal Rule of Criminal Procedure 16), and finds that those laws aim at different purposes.
The plurality opinion examines the titles and section headers in Sarbanes-Oxley, the position of the section of Sarbanes-Oxley using the "tangible objects" language, the use of similar language in other sections of the law, and explores whether various proposed interpretations of the law would render other provisions superfluous.
Ginsburg digs in to Latin, which is usually an indication that a bid for legitimacy of a rule by framing it as rooted in ancient common law is underway: "we rely on the principle of noscitur a sociis—a word is known by the company it keeps" or, in other words, we can glean an understanding of what a word is intended to mean by seeing what other words used around it also mean. Later, she pulls out ejusdem generis: "Where general words follow specific words in a statutory enumeration, the general words are [usually] construed to embrace only objects similar in nature to those objects enumerated by the preceding specific words."
From this, Ginsburg concludes that these "traditional tools of statutory construction" suggest a narrow rather than expansive reading of the phrase "tangible object" in Sarbanes-Oxley, embracing paper files and computer hard drives, but excluding physical objects in non-financial investigations such as, relevant to the Yates case, dead fish: "only objects one can use to record or preserve information."
Justice Alito's concurrence also looks broadly at Sarbanes-Oxley, in his case focusing on "the statute's list of nouns, its list of verbs, and its title," noting that "[a]lthough perhaps none of these features by itself would tip the case in favor of Yates, the three combined do so. Alito also applies noscitur a sociis and ejusdem generis. When considering the other sorts of "objects" referred to in Sarbanes-Oxley, he finds that the tangible objects it refers to ought to be "similar" to documents, and that a "fish" does not spring to mind.
Justice Kagan's dissent rests on the "everyday language"3 meaning of the phrase "tangible object," meaning any object capable of being touched, and what she reads as the legislative intent of Sarbanes Oxley to cast a broad net against destruction of evidence intended to thwart federal law enforcement. She agrees with the plurality that context matters in interpreting statutes, that their terms are not construed in a vacuum, and that the words therein should be understood with a view to their place in the overall statutory scheme. "[S]ometimes that means, as the plurality says, that the dictionary definition of a disputed term cannot control." It's just that for Kagan and her fellow dissenters, "…the text and its context point the same way." So for her destroying the fish itself is no more or less culpable criminally than would have been shredding the ship's logs.
Kagan's analysis of the legislative history of Sarbanes-Oxley is substantially deeper than the plurality's, which is worth noting: she quotes individual legislators commenting in both committee and floor debates about this section of the bill that became the law at issue in Yates. She chides the plurality for using the principles of noscitur a sociis and ejusdem generis in a situation in which the words lack "obscure or doubtful meaning" and possess inherently clear meaning.
She finishes with the near-obligatory exploration of lexillogical alternatives that were at Congress' ready disposal to have elegantly reached the goal suggested by the Court; Congress was surely aware of those other words, but chose not to use them, so it must not have intended to have used them and instead intended to use the words it did.
Let me summarize this: Roberts, Ginsburg, Breyer, and Sotomayor relied upon an understanding of the broad purpose of the Sarbanes-Oxley Act and the use of the phrase "tangible object" to fulfill that law – to police against and punish financial proprieties.
Alito cared less about what Sarbanes-Oxley was doing but found that the other words and phrases used in close proximity to the disputed phrase provided sufficient context to come up with the same narrower construction used by the plurality.
Scalia, Kennedy, Thomas, and Kagan rested most strongly on the plain meaning of the phrase, overt legislative history, and the readiness of alternative phrasings to have less ambiguously reached the other proposed constructions.
But I don't think that any of the Nine are going to get to the point that they have to parse out which of these techniques they will use to intellectually massage the text of the law at all.
Chevron Deference
When a statute mandates an agency to take some action, courts should defer to agency interpretations of such statutes unless they are unreasonable.
(1) "First, always, is the question whether Congress has directly spoken to the precise question at issue. If the intent of Congress is clear, that is the end of the matter; for the court as well as the agency must give effect to the unambiguously expressed intent of Congress."

"If the Court determines Congress has not directly addressed the precise question at issue, the court does not simply impose its own construction of the statute . . . Rather,

(2) if the statute is silent or ambiguous with respect to the specific question, the issue for the court is whether the agency's answer is based on a permissible construction of the statute." Chevron U.S.A., Inc. v. Natural Resources Defense Council, Inc. (1984) 467 U.S. 837, 842–843.
Two of the three members of the Fourth Circuit panel that upheld the IRS rule relied on Chevron deference to do so. The third also found for the Government, finding that the statute, interpreted as a whole, would be rendered without substantial effect were the subsidies to be taken away. Following the cues given by the Fourth Circuit in this vein, the Government argues at the end of its brief that
…the phrase "established by the State" cannot be read to unambiguously bar tax credits in States with federally-facilitated Exchanges. For example, petitioners are surely incorrect that Section 36B unambiguously denies credits to individuals in such States, given the explicit and directly contrary text in Section 36B itself, which requires those Exchanges to report information needed to reconcile tax credits. 26 U.S.C. 36B(f); see pp. 25-26, supra. In like manner, petitioners' reading cannot be unambiguously correct because it would mean that HHS could not possibly fulfill the statutory command in Section 18041(c)(1) that federally-facilitated Exchanges operate just like their state counterparts. Respondents' Brief, pgs, 55-56 (emphasis in original).
It seems at least reasonable to interpret the statute to say that an exchange established by a State is an exchange established by the Government in the stead of a State. Now, the plaintiffs are reasonable too: Congress said what it said. But what Congress said really doesn't make a lot of sense in context; it said a whole bunch of other things about what it was doing very different than the narrow reading King gives to this single phrase.
That's ambiguity. And Chevron means that when there is ambiguity, the Government can adopt any reasonable interpretation it wants. To defeat Chevron, King must demonstrate that the law is susceptible of no other alternative interpretation that is reasonable. This, in my opinion, King has failed to do.
Standing to Sue

King, and his co-plaintiffs, are in a particular band of income. If the cheapest available insurance costs more than 8% of their expected annual household income, and they don't buy insurance, they have to pay the tax penalty. The cost of the coverage is determined after the subsidy. So, since they say it's contrary to law to distribute a subsidy to them because Virginia is not a 1311 state, they're stuck between a rock and a hard place – they can either spend more than 8% of their annual income on health insurance or they can pay the tax penalty.
For a time, many critics of the argument in this case suggested that this was not a concrete enough articulation of damage caused by the PPACA to constitute the "concrete and particularized" injury to a "legally protected interest" which is necessary to have standing to sue in the Federal Courts. Lujan v. Defenders of Wildlife (1992) 504 U.S. 555, 560. Put another way, they must demonstrate that they have suffered personal injury fairly traceable to the government's allegedly illegal conduct, and likely to be redressed by the requested relief. Allen v. Wright (1984) 468 U.S. 737, 751.
Bear in mind that the relief requested is a finding that the IRS interpretation of the rule, extending the tax credits as subsidies to § 1321 states, is invalid. This raises a very serious question about King's standing: invalidating the tax credit subsidy rule does not seem to afford succor from the tax penalty. If the IRS rule were declared invalid, then King would not be able to get his subsidy. But he would still have to either buy health insurance (now at an unaffordable" level in excess of 8% of his annual income) or else pay a tax penalty.
And I'm not sure that I find injury there. A tax "penalty" is, really, another tax. A sur-tax. An extra tax. A tax which is treated differently from a base tax. But still a tax nonetheless. The IRS uses a different word than this to describe it, but is candid in advising taxpayers that "Penalties are generally assessed, collected and paid in the same manner as taxes." The means by which one becomes subject to a penalty are as clearly-articulated in the Internal Revenue Code as are the means by which one becomes subject to a tax; behave in a fashion that triggers a penalty and there is liability, just as behavior consistent with a credit or a deduction will result in a reduction of taxes owed.
Having to pay your taxes is not an injury sufficient to grant standing under Article III. Having to pay taxes, even if that tax money is purportedly used to pay for unlawful government activity, is not a sufficiently particularized interest for standing purposes, because of the "comparatively minute, remote, fluctuating and uncertain impact on the taxpayer." United States v. Richardson (1974) 418 U.S. 166, 172.
For this reason, I do not think that Chief Justice Roberts, in particular, can find standing. Roberts' opinion in NFIB found the individual mandate to be a valid exercise of Congress' taxing power. To be consistent, and the Chief cares about his consistency, I can't see how he can avoid saying to King, in essence, "So you don't get a subsidy and you don't buy insurance. Now you've gotta pay extra taxes because of the choices you made. Tough noogies on you: go, now, to pay your taxes to the full extent of your legal obligation."
How eliminating the (even if illegal) subsidy would make this any better for King, or change the result, is something I can't puzzle my way through. If King takes the subsidy (even if it is actually illegal for the government to give it to him) and he buys insurance, he doesn't have to pay the penalty at all. He has less money than before, true. So too if he gives money to a charity, he gets a deduction, and he also has less money than before — which is true whether his motive for giving was moral or economic. Now, if King declines the subsidy and buys insurance, he still doesn't have to pay the penalty at all. Only if King doesn't buy insurance does he pay the penalty. The penalty is triggered by the failure to purchase insurance.
So his harm, if any, is a function of the individual mandate component of Obamacare, not the subsidized exchange component. And as we already know from NFIB, the penalty is a valid exercise of Congress' power to tax. That means his requested relief doesn't match up with his purported harm or the purported illegal activity of the government. Which means: no standing.
Note also that King isn't required to buy insurance; he can elect to pay the penalty instead; that's a decision with a tax consequence, to be sure, but once we get to the point in our analysis that the harm becomes a tax, we suddenly must become very deferential to the government in terms of determining a litigant's standing. You aren't legally damaged, and you lack standing to sue in Federal courts, when the only injury you claim is that you have to pay your taxes.
Now, here's the thing. None of the parties' briefs mentions standing at all. The plaintiffs point out that they have to either pay a tax penalty or buy insurance that they don't want, and either way they're out money. That's a valid exercise of Congress' taxation power, a (recently) settled legal issue. But the plaintiffs take it as a given that they've been hurt by Obamacare, and the Government didn't call them on it at all: "[t]hey do not wish to be eligible for tax credits, and they filed this suit asserting that Congress precluded Treasury from providing credits to all residents of States with federal-facilitated Exchanges." Respondents' brief, pgs. 11-12.
"Really? That's the best you can do?" I snarled under my breath the first time I read that sentence. And that's about as close as the Government comes to addressing the fact that the plaintiffs' injury is that they might have to pay taxes instead of getting a tax credit. Between the government's Hobby Lobby brief (which also wasn't really up to snuff, IMO) and this, I'm beginning to wonder about what's going on in the Solicitor General's office.
How Justice Likko Would Rule
I would find that these plaintiffs lack standing: invalidating the IRS subsidy rule would not relieve them of the choice imposed by the PPACA to either buy insurance or pay a tax. Liability for taxes is not sufficient to generate Article III standing. Everything after this would be dicta in my opinion.
Were these or some hypothetical other plaintiffs able to articulate sufficiently tangible, particularized harm as to claim standing, I would then rule that Chevron deference is sufficient to allow the IRS to interpret the law in such a fashion as to extend tax credits to states with Federal exchanges rather than state exchanges. The text of the law is not inconsequential. But I agree with the Fourth Circuit: it's ambiguous. Only when you look at a very small, short phrase does the ambiguity disappear. The incongruity of that small, short phrase, contrasted with the apparently comprehensive subsidies, and a rich record of legislative history, indicates that Congress intended to extend subsidies to anyone who bought from any exchange.
So a reasonable interpretation of the law, taken as a whole, would affirm the Fourth Circuit and leave the subsidies as they are currently being administered. Taking the law as a whole and reading it in context is how SCOTUS interprets statutes; the President is surely reasonable to do the same. The President can interpret the law to extend a subsidizing tax credit to anyone regardless of what state that consumer lives in, if that's what the President wants to do. If Congress doesn't like how a President interprets an ambiguous statute, it can pass a clarifying or correcting law.
This Congress might just try something like that. This President might just veto that, and probably still has enough votes in the Senate to make the veto stick.
But, it's also reasonable to interpret the law as the plaintiffs suggest, so a future Administration under different leadership might direct the IRS to adopt the narrower interpretation urged by the plaintiffs here. Since there is ambiguity, a future President would be within his or her discretion to cut off subsidies to the 1321 states and only extend them to the 1311 states. And if Congress doesn't like that, it can pass a law clarifying or correcting the President.
1 There is a tantalizing bit of exposition in Part III-A of Chief Justice Robert's opinion: "The power to regulate commerce presupposes the existence of commercial activity to be regulated. If the power to "regulate" something included the power to create it, many of the provisions in the Constitution would be superfluous. … [¶] The language of the Constitution reflects the natural understanding that the power to regulate assumes there is already something to be regulated." While Chief Justice Roberts could not persuade even one of his colleagues to join this portion of his opinion, for those who profess contempt for caselaw such as Wickard v. Filburn, 317 U.S. 111 (1942) and Gonzales v. Raich, 545 U.S. 1 (2005), which broadly construes the scope of the Commerce Clause, this bit of mental play by the nation's foremost jurist must surely have caused more than a bit of a thrill.
2 Others have criticized SCOTUS for granting certiorari at all, but I don't think SCOTUS had much of a choice. This case resulted in a win for the Government before the Fourth Circuit, but the D.C. Circuit found for a theory substantially similar to King's in the case of Halbig v. Burwell, 758 F.3d 390 (D.C. Cir. 2014), and a few weeks later, Halbig was followed by a District Court in Oklahoma v. Burwell, No. 11-cv-30, 2014 U.S. Dist. LEXIS 13950.
3 Amusingly, in insisting that the ordinary meaning of the spoliated evidence in Yates embraces its status as a tangible object, Kagan cites to a Dr. Seuss book, One Fish Two Fish Red Fish Blue Fish. She also comes up with another play on words in section II of her opinion: "The plurality searches far and wide for anything—anything—to support its interpretation of §1519. But its fishing expedition comes up empty."
Image Credits: All images from Wikimedia Commons.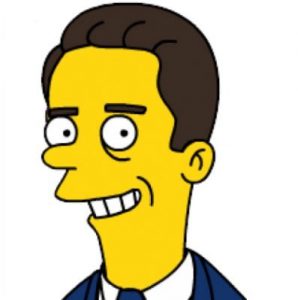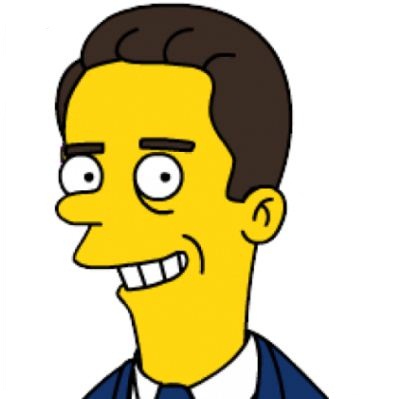 Burt Likko is the pseudonym of an attorney in Southern California and the managing editor of Ordinary Times. His interests include Constitutional law with a special interest in law relating to the concept of separation of church and state, cooking, good wine, and bad science fiction movies. Follow his sporadic Tweets at @burtlikko, and his Flipboard at Burt Likko.