Walker's Education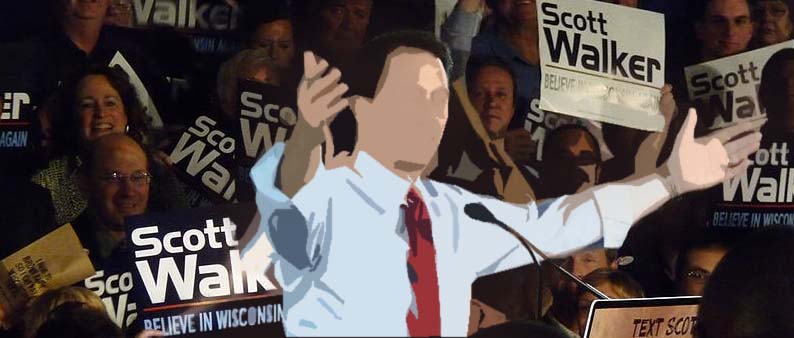 Chidike Okeem argues that of course Scott Walker's lack of a college degree matters:
The notion that America should accept a president in the 21st century who does not possess a baccalaureate degree is beyond absurdity. The fact that some conservatives are trying to make criticisms of Walker's lack of a college degree about snobbery and elitism, rather than him not meeting a perfunctory expectation of the Leader of the Free World, only goes to show the embarrassing way in which anti-intellectualism is treated as a sought-after virtue within mainstream conservatism.

There is an alarming number of people in America with graduate degrees who are incapable of finding jobs commensurate with their educational attainment and, in some cases, finding jobs at all. At a time when this is occurring, it would be monumentally absurd to elect someone who couldn't be bothered to finish college to the highest office in the land. If the highest office in the land, and indeed the most important job in the world, can be whimsically occupied by someone who couldn't be bothered to find the time to finish his undergraduate education, then what is the point of anyone slogging through college and earning a degree? Are those who suggest that college dropouts should be routinely considered for the office of President of the United States arguing that the presidency is less tasking or important than the plurality of jobs listed on Craigslist that specify only holders of a baccalaureate degree should apply?
Deroy Murdock has an alternative view:
"Scott Walker, were he to become president, would be the first president in many generations that [sic] did not have a college degree," former Democratic National Committee chairman Howard Dean, M.D., fretted on MSNBC on February 12. Dean called Walker "unknowledgeable" and added: "The issue is how well educated is this guy? And that's a problem. . . . I think there are going to be a lot of people who worry about that."

One thing driving this sentiment is the sense among the well-insulated ruling class that "everyone graduated from college." True, everyone we know did. However, this is not true nationally. Without a college degree, Walker may look like a space alien among those who frequent Amtrak's high-speed Acela train. However, his education level makes him a remarkably typical American.
There are two related questions here. The first is whether it is politically smart to emphasize the lack of a college degree. It isn't, and I think the Murdock piece lays out the reason why. Sure, he's a Republican writing on a Republican platform, but most liberals (Dean aside) seem to recognize this insofar as they haven't been emphasizing the issue as much as Republicans might hope. This has been one of those cases where I've seen backlash to the argument in far greater proportion than I've seen the argument itself. The criticisms of Walker I've seen revolve more around the circumstances of his departure from Marquette. But despite nebulous "questions being asked", it appears that it is more or less what Walker says it is. He was a lackluster student, but not a failing one, who had a job opportunity and felt safe moving on.
The second question is, regardless of whether it is politically correct to bring it up, whether there is any merit to the argument. Just because bringing something up is bad politics doesn't make it meritless any more than the inverse is true.
I cited Okeem's argument because it is the most full-throated I've seen, and one that's not coming from a purely partisan place (Okeem's politics aren't easy to nail down). It's a better-made argument than Murdock's and a lot of the arguments I've seen that his college degree matters. Ultimately, however, I find it unconvincing.
Okeem says the following:
It is not elitism to suggest that the President of the United States should have the basic international educational requirement for an entry professional position today: a baccalaureate degree.
There are a lot of professional positions that do not require a college degree. Ultimately, most don't, because if they did, they would go unfilled. There is also an argument to be made that a lot of jobs that do require college degrees probably shouldn't, though no doubt Okeem would disagree with that.
To be sure, there are jobs where college degrees matter a great deal. If I'm going under a scalpel, I probably want the scalpel-wielder to have either an MD or a DO or its equivalent. Engineers should demonstrate formal training in engineering. With rare except, teachers and professors should have their appropriate degrees. There is nothing elitist or snobbish about saying so.
It is perhaps ironic that executive positions are not always among that. He mentions, but dismisses the Bill Gates example. But after becoming an entrepreneur, Bill Gates did represent a gargantuan enterprise. Nobody thought that Microsoft's Board ought to have replaced him so that their company could be represented by someone with a degree. And if Bill Gates were to want to get back into the business world, he would be (and should be) judged entirely on what he accomplished in business. As far as hiring goes, the importance of a college degree is that it gives employers a greater degree of confidence that you can achieve. If you have already achieved, then it's beside the point.
I would argue that the presidency falls into this category. What is required to be president overwhelmingly occurs after college. There is no "President of the United States" degree offered. Its training is inherently on-the-job. So we look towards as equivalent experience as we can find. They have experience running a state, as an executive in the private sector, or serving at the highest echelons of the federal government. And that's what ultimately matters.
When dealing with someone of limited experience, then you might look at such things as a proxy for intellectual curiosity. Sarah Palin graduated from college, though took a long and winding road to get there. She is, if not dumb, intellectually limited. Palin's resume was sufficiently limited that maybe her unimpressive college career took on more importance. Even then, George W Bush had the right degrees from the right places and was also considered by many to be similarly intellectually limited. But the more of a record someone has, the more you can draw on that record. Bush had more than Palin. Walker (I believe, anyway), has more of a record than Bush.
However well or poorly he has done at that job, Walker is the thrice-elected governor of a mid-sized state, having worked as a state legislator and county executive before that. In terms of resume, he may be less qualified than Rick Perry or Jerry Brown, but arguably moreso than the last three presidents at their first election and almost certainly more qualified than the man who currently holds that office was when he was initially elected. In light of this, fixating on formal education twenty years ago is counterproductive. There is more relevant data to draw on.