… twenty …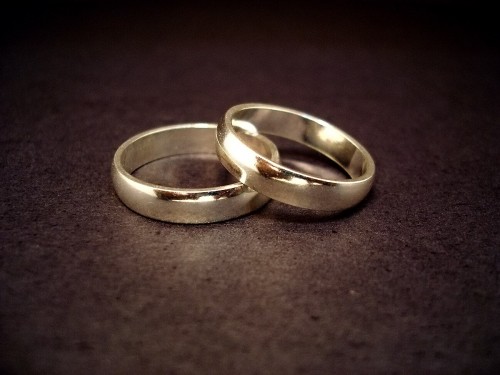 As diamonds go, the one that sits upon my wife's hand is laughably small. Picture a stone the size of a wee dried currant, and you get the general idea.
I would very much like to tell you that this was due to some kind of fashion choice, born of social modesty or a minimalist aesthetic.  That, however, would be a lie.  The truth is that the diamond that sits on my wife's engagement ring is as small as it is because it was all I could afford at the time. Three times my monthly salary wasn't a lot back then, and really I couldn't afford to use three months of my paltry take-home pay for anything that wasn't food or rent. So I paid what I could afford, and man oh man did I get what I paid for. I have never before or since seen an engagement ring diamond so miniscule.
The day I bought it I showed it to a female coworker. She told me that if a man ever popped the question to her with a ring that paltry she'd throw him out on his ass and never go out with him again. It was a startling reminder of just how much an engagement ring communicates to people, and it occurred to me then that I'd never actually talked about rings with my girlfriend.  I was pretty sure she would feel differently than my coworker, but as we'd only been dating for a few months and I wasn't 100% certain. Still, to paraphrase Donald Rumsfeld, you go to war with the army you can afford, and so I opted to swallow my pride and get down on one knee anyway.
It was maybe two years later that each of our careers really took off, and since then my wife has had a standing offer from me to replace that shiny dried currant with a larger stone of her choice. She has never taken me up on this offer, saying that the one that sits on her finger is her favorite gem in all the world. And the truth is it's my favorite too.
It is, after all, the one she was wearing when we were married twenty years ago this week.
___________________________
I suspect that if you were able to get your hands on a time machine and some truth serum, you'd discover no small amount of trepidation amongst my friends at the prospect of my getting married way back then.  I had a reputation, well deserved and indeed cultivated, of being something of a commitment-phobe. Most of the women I dated were, as my friends were fond of saying, "bats**t crazy;" to whatever degree this was true, it was not by accident.  I tended to be attracted to women who I knew immediately would be terrible choices for long-term relationships, no doubt to absolve me of my responsibility to ever have to commit to one.
Some people in your life, though, they just sneak up on you.
My wife and I had known each other for years without either of us having had the faintest level of romantic interest. Then one New Years Eve afternoon a couple who were mutual friends invited us each to a matinee showing of the movie The Snapper.  (And to be clear, this was not a setup.  I was invited by the guy in this couple, and she was invited by the gal; neither of them knew the other was inviting anyone.) When we all arrived at the theatre we couldn't find four seats together, so we had to split up into two groups of two.  I assumed we would break off men going one way and women another, but instead I found myself sitting with this woman I knew but didn't really know that well.  And as we sat talking waiting for the previews to start, something just clicked.
I invited her to a New Years Eve party the rest of us were attending that evening, and I did so in the hopes of kissing her at midnight.  She agreed to come, but then she never showed up.  I rationalized this as being all for the best: She was a friend of friends, she had once had a relationship with someone in my wider circle of friends, she wasn't bats**t crazy, I could see myself possibly falling for her… in other words, kissing her would have required breaking far too many of my own rules.  And so I counted her as a dodged bullet, thanked whatever single-guy guardian angel was looking out after me, and moved on.
Two weeks later she called and asked me out, and after I accepted and hung up with her I danced around my apartment in joy.
Less than four months after that, I found myself buying the world's most pathetic engagement ring.
___________________________
There were surprisingly few obstacles between the day I asked her to marry me — Cinco de Mayo, for what it's worth — and our wedding day the following February.  (As I recall we'd initially wanted a summer wedding, but the crazy work schedules of our immediate family pushed it back to an almost-Valentine's Day affair.)
Family-wise, we were lucky. I'm not sure I had any friends at that point who were married or engaged who hadn't had some kind of in-law approval issues to sort out, but we faced none of that.  My parents adored my wife right off the bat, and only partially because until she showed up they'd worried they might go their graves without grandchildren. My wife's family was thrilled for my fiancé, even if they weren't overly thrilled with her choice.[1]  I may or may not have been their fist choice for their daughter and sister, but they knew I was hers and so they welcomed me with love and open arms into their family without hesitation.
My own personal fear — my certainty that after years of living alone happily I would come to resent my fiancé who was moving in with me as our wedding approached — never materialized, either then of since.
When the big day finally rolled around and I donned my tux in the church basement, I realized that everything I had done in my entire life, every wonderful and terrible version of myself that I'd been up until that point in time, it all happened so that I could be right there, right then.
So that I could kiss the woman on her way to meet me at that alter before everyone that I loved.
___________________________
There's much more to this story, obviously.  Weddings are so often treated like culminations, but in fact they are the shared jumping off of a cliff into… something.
I doubt there are any couples who've gone twenty years without having had rough patches, and certainly we are no exceptions.  Like everything else in life that means a damn, marriage is often hard work. You may end up divorced or you may live happily ever after and grow old together, but either way: committing yourself that absolutely and that nakedly to another human being is knowing that your heart will at times have to be broken.  All you can really hope for is that you are always able rebuild it, and that perhaps you can make it somehow stronger than before.
And if that makes it sound as if the bad times in my marriage weren't absolutely obliterated by the joyful ones, then I'm telling this all wrong.
That young man who asked my wife to marry him two decades ago — that dopey kid that watched her walk down the aisle to greet him on February 11, 1995 — he doesn't exist anymore.  He's as dead and gone as he'd have been if he'd dropped dead of a heart attack at the age of thirty.  And that's a good thing. He was, after all, an insufferable, immature little prick.  The man who has ultimately taken his place is the best possible version of that boy's possible futures. He's kinder, and fairer, and wiser, and happier, and more full of life and love than that boy ever had reasonable hopes of being.
And make no mistake: he's all of these things because of her.
And if that wasn't enough (and by God it is), there is the ultimate product of their vows to one another: two young men, each so incredibly different from the other and yet each so undeniably perfect that it both thrills me and breaks my heart to see them grow up. If my wife and I had done nothing else with our lives, the world would owe us a debt for merely bringing such amazing human beings as our sons into being.
___________________________
I have been caught rambling, as I so often do.  Allow me, then, to try to restate everything I've just said more simply, more succinctly:
Happy anniversary, my dear and lovely wife. And thank you, thank you, thank you, thank you for the past twenty years.
They were perfect.
[1] Please don't get me wrong, my wife's family liked me well enough. They really did. If I had a single flaw in their eyes, it was simply that I wasn't my wife's ex, whom they adored. Much of the conversation the first time I flew out to meet them centered around the ex's degree of personal, familial, artistic, and career awesomeness.  For years whenever my in-laws came to town, they would be as excited to visit the ex and his family as they were about seeing us. I firmly believe, however, that over time I have won them over.
[Picture via wikipedia.]