Re-Blogging the Canon
As Gertrude Stein once suggested to a young writer: Begin again and concentrate.
In my mind, the Blogging the Canon project I began nearly five years ago on this site was ongoing and lifelong. However, I never really explained to anyone that I intended from the start to jump around chronologically and geographically. So, when I posted about Sir Gawain and the Green Knight and the Lusiads recently, I saw that as part of the project; perhaps, though, nobody else did.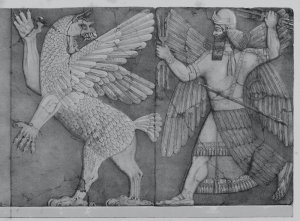 I think this reflects my usually scattered "busy mind", but I also suspect this hasn't worked very well. So, I am going back to the beginning- the very beginning of literature. I will include links of texts I have covered and perhaps some further notes on them. I will also try to provide more images, "tables of contents", and chronologies to make this all more coherent. As always, the posts themselves will be digressive, irreverent, and idiosyncratic. Students should not try to turn these in for class assignments if they don't want to fail!
I will consider myself successful, then, if I can get us through the Bronze Age (roughly 2600- 1200 B.C.E.) by the end of this summer and then we can start moving on to the classical Chinese, Indian, and Greek texts. These are the texts I would like to have covered. Suggestions are always welcome, provided I can find decent translations:
The Debate between Bird and Fish
The Cannibal Hymn (Egyptian Pyramid Text)
The Shipwrecked Sailor
The Book of the Dead
and The Rig Veda, which just barely belongs in/brings us out of the Bronze Age.