A Heap of Broken Images*
First, an image. We see many images now. We do not lack for images. We lack context. This image was one of Le Monde's featured best pictures from an anti-terrorism march in Paris after the Charlie Hebdo massacre. The sign says "He who would kill a man… kills all of humanity," a decontextualized quote offered from "Qu'ran 5, V. 32." It is pedantic to note that it was verse 31. It is not pedantic to quote the full passage, which follows a discussion of Cain's killing of Abel: "It is for this reason that We declared to the Children of Israel that he who kills a soul neither in revenge for another, nor to prevent corruption on earth, it is as if he killed all of humanity; whereas he who saves a soul, it is as if he saved the whole of mankind." By decontextualizing and editing the passage, its meaning is changed entirely and it is made to say what we want to hear.
Similarly, the English-speaking world had a debate recently about the nature of a newspaper of which none of them had ever read a single issue based entirely on decontextualized images and what they might mean. It was a bit like watching archaeologists try to interpret shards of pottery from some long-vanished culture. I remember one writer, Canadian naturally, who went so far as to say that she has never and will never look at that handful of decontextualized images because they're racist and she does not give power to such images.
It was too late- the images were given almost supernatural power by their critics and attackers- perhaps less so by their supporters, who defended them only in principal. One of the ironies of defending an open market in images and ideas is the necessity of trivializing the images and ideas themselves, while rendering their creators symbolic. One of the French cartoonist survivors of the massacre, because he skipped work that day, said in the French press that the irony was the Charlie Hebdoistes were made symbols and they smashed all symbols.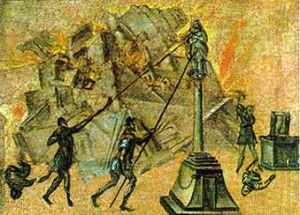 We defend a free market in disempowered images. We defend free speech on the basis that images and words are somehow unreal and can cause no real harm. This goes against a countervailing force in the Western tradition. The power of the image is a theme in Islam, adopted from the earlier Abrahamic religions. Thou shalt not make unto thee any graven image, or any likeness of any thing that is in heaven above, or that is in the earth beneath, or that is in the water under the earth: Thou shalt not bow down thyself to them, nor serve them: for I the LORD thy God am a jealous God… We regularly praise "iconoclasts" in our culture, while forgetting our closest reference is to the Protestant iconoclasts who smashed Catholic religions images throughout Europe during the Wars of Religion, which they felt encouraged idolatry, assigning frightening pseudo-religious power to the image.The tendency prevails. We still have plenty of imagephobes (not to mention what Madame de Staël called ideaphobes) in the west.
I come not to praise Charlie, nor to condemn him. When I was living in France, I read the paper often and remember very distinctly thinking it was basically inevitable that the staff would be murdered. I don't like having thought that thought, nor am I proud that my first thought upon hearing there was a terrorist killing in Paris was that it was almost certainly involved with the paper.
Perhaps more important though is the fact that Paris too is a context and entirely too many of the people living there are decontextualized. I will offer two images of my own from my time there: in the first, a young man of about the age of the shooters and I got drunk on a Paris side street late one night while he poured out his guts in French much better than mine about how impossible it was for him to find a job in the city or a place to live within the city. His father was Algerian, hence a French citizen, and he was born and lived his entire life in France; yet he would never be French. One cannot become French; one is made French.
In the second instance, I interacted with the proprietor of an internet cafe well outside of the main city in the banlieues- I think people don't realize just how far the notorious Paris "suburbs" actually are from the interior of Paris. The proprietor was in his 50s, dressed in very traditional Muslim dress, and during the time I was alone with him in that shop he glared at me shooting daggers like I've rarely encountered before. He could have sent been from central casting for the show 24… or at least that was how I contextualized him at the time. How was he contextualizing me? I have no idea.
Living for entire generations now within the context of no context, we frantically try to make sense of a dizzying array of images and concepts. What's frightening isn't that we fail to do so, but that we have no idea that we fail to do so. Meanwhile, those around us are in the same predicament and just as lost. We live in reality grids that don't intersect. For them, we– and for us, they– are rendered as badly recontextualized images.
What just happened?
When asked the significance of the French Revolution in the early 1970s, Chinese Communist leader Zhou Enlai was reported (or misreported) to answer "It is too soon to say".
*Update: I realized this afternoon that, of course, that should have been the title.