On Being A Good Borrower of Library Books
by Maribou
Some of these are at least as much from the perspective of me, huge borrower, as from me, library worker.
1) Don't ever vent your frustration on the people at the circulation desk. If you are cheerful in general and have a question or complaint, that is useful information for them; but if you are pissed off, go walk it out before you come back to talk to them. And don't complain or whine about the borrowing periods, checkout limits, etc, at length, as if they can actually change the policy for the whole system. Note that this is different from asking about said borrowing periods, checkout limits, etc, because they may be able to make an exception for one reason or another.
2) If you get an exception for some reason, do not say, the next time, "but the other lady let me do it…" You are either going to get "the other lady" in trouble (or at least spark a lengthy discussion among the circ staff) or convince the counter person that you do not know what the word "exception" means. (If you think the person is actually making a mistake, of course that is different and you should speak up. But sometimes? You know that other lady was doing you a favor, dude, don't milk it.)
3) If it has holds, don't be later than whatever your library's grace period is. You can always check it out again and rejoin the hold queue. And that is the fair thing to do. It's rude to keep something when someone else is entitled to their turn. And whatever you do, don't ask for renewals if you know something has holds. You're basically asking the staff to treat you like you matter more than someone else, and good library people will not like that.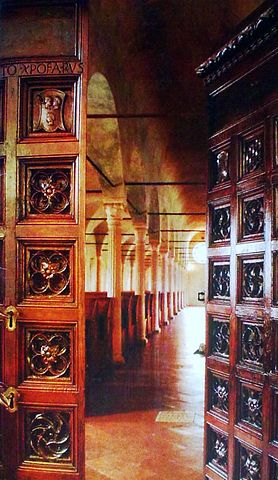 4) If you aren't hoarding items that have holds, it actually takes a lot to get the library staff's attention or cause them to judge you. Until I worked in a library, I had no idea how little library people actually care whether your stuff is late. Sure, you might have to pay fines, but they aren't going to judge you, or be mad at you. They honestly see worse every day and probably didn't care in the first place. They want you to enjoy the books! They don't want you to have to pay fines! So they might give you a helpful speech because they think it will help you remember for next time, or understand the fine structure better, or something. But keeping that book that no one else was even using for an extra week or two? No one at the library thinks you were bad. Need to renew that audiobook just one more time even though you've had it for 6 months already? No one will care and they will probably make an exception if you give them puppy dog eyes and don't act entitled to it. (Though if you start asking every time, they might give you some unnecessary advice about managing your checkouts. Because, library people, pathologically helpful.)
5) Do not underline, dog-ear, highlight, or cut out pages. You do not own this book. It is a library book. It must be preserved. Also, if you do those things, we will hate you forever. If we don't hate you because you are too awesome to hate, we will just resent your behavior and feel like you have betrayed us. If for some reason you do those things, 'fess up and offer to buy a replacement.
6) Do not take your library book in the bath or let your dog eat it or take it on a hiking trip or drop it in a rapids or leave it on a plane. It is a library book. (Note: Most of us have broken this rule at some point so if you do break it, we will forgive you. Just act appropriately contrite and don't balk at paying for the replacement.)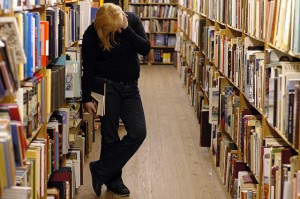 7) If you are pretty sure you returned it, check the shelf and see if it's there. If it's not there, you probably lost it somewhere. Be willing to entertain the possibility that you lost it somewhere even if you are pretty sure you didn't, *especially* after we've explained our search procedures and confirmed that we can't find it anywhere either. *Especially especially* if we looked several times too. Not saying you have to pay for it, just be a little more open to the possibility that you have forgotten.
That's honestly it. Check out as many as you want of the most popular books that you want. Re-checkout stuff you didn't get to last time. Need lots of help finding stuff. That's all fine. Most of the staff you work with will also be compulsive borrowers of books and they really are just glad you are using the library.
Image sources: wikimedia commons, wikimedia commons, and wikimedia commons.