delBySFR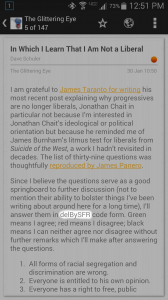 Has anyone else ever seen this? My smartphone has taken to replacing the word "color" with the word "delBySFR." Even going so far as to change URLs from Colorado to DelBySFRado and then giving me a 404.
It doesn't happen in all my apps, but does consistently on my RSS Reader, across all of my android phones and tablets.
I do a google search for deBySFR and all I get are comments where I myself am mentioning it.
Does anyone know why the word "color" would be replaced with delBySFR? Or what deBySFR might mean?