The Abortion Map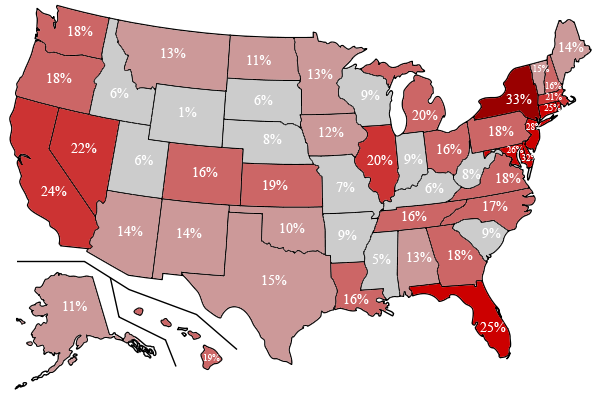 Before Mike Dwyer wrote the post on abortion he did not intend to write, I had one thought out that I intended to write but had not wrote. This isn't the first time this has happened. I need faster turnaround time. However, the above map was used for a Monday Trivia post, but was designed in good part out of curiosity.
The above is a map based on the percentage of pregnancies ending in termination within each state. It is not looking specifically at teen pregnancies or unintended ones or whatnot. Here is what I take from the map:
I was genuinely surprised by the results of this map when I put it together. I knew that there would be some differences from state-to-state, but did not think it would be any more than State X is twice as much as State Y. I expected a range of 10-25% or 15%-25% and not 1%-33%. I actually started this search to respond to a suggestion that abortions are relatively rare in Utah. It turns out, they are.
Culture seems to matter – It's difficult for me to look at the map and reduce the substantial disparities to everything except culture. The State of Montana has no barriers to abortion provisions but distance (there are eight providers spread throughout the state), but to suggest that access is the issue is to suggest that almost 2/3 of women having abortions in New York wouldn't be having them if it was a couple hours away.
What makes for the cultural distinctions? North Dakota and South Dakota appear to be very similar, yet one has a notably higher abortion rate than the other (though both are well below-average). South Dakota has two providers and North Dakota has one. Why the difference?
Culture can be defined any number of ways, of course. From the values that one picks up to the social norms one is raised around. It is impossible to detangle these things, of course, but both are relevant. Law arguably should be included with culture, but for discussion reasons I am separating it out.
If it's not culture, then restrictions are really effective – One would think that the demand for abortion would be relatively inelastic (financially or hassle-wise). That does not appear to be the case and adding hoops to jump through makes a difference. (I think this is the case even if culture is responsible for some of it.). I would be quite interested in statistics demonstrating the elasticity of abortion demand with regard to the nearest clinic. How much does 20 miles reduce the rate? 40? 80? This doesn't have immediate policy repercussions, but I am interested nonetheless.
With culture and access, there is a chicken-egg question. Certainly, cultural objections would manifest themselves in laws, but one really interesting thing: If you look at rates-per-woman-of-reproductive-age (RPWORA) over time (and a lot of anti-abortion laws are recent), you'll see they track above or below the national average very closely. This is true for states with no restrictions, and states that have been instituting many restrictions. (Note, RPWORA statistics are a little less reliable because it looks at the state where the abortion occurs, rather than where the mother lives).
To be honest, I find it really difficult to wave away cultural influence as one of the explanations, and it requires a degree of ideological devotion to suggest that it is probably that.
These statistics possibly mitigate the RedFam/BlueFam meme, depending on how you look at it. If illegitimacy and teen motherhood rates make red states look bad, the dearth of abortions are arguably a reason for that. This loses all value if all you care about is illegitimacy and motherhood rates and don't care about abortion rates. Also, Gutmacher's numbers suggest that regardless of abortion, unplanned pregnancies tend to be higher in southern and southwestern states.
Abortion rates appear to be low in states with limited economic opportunity. It suggests, to me, that raising the minimum wage and such wouldn't necessarily help. The economics of this decision, in my view, have less to do with income, and more to do with the cost of raising children. Expensive states have higher rates than inexpensive one. This could completely be effect from other factors, but I don't think it is.
In addition to being economic, the cost issue is also cultural. Low-cost states attract and hold on to people who want families. A Mormon family of six reduces the abortion rate of Utah.
Do these statistics tell us anything about sex ed? Well, not especially since the purpose of sex-ed is not limited to reducing abortions. It does suggest that to the extent that abortion-reduction is a goal, sex-ed's influence is limited.
With enough ideological effort, any of the findings can be waved away. After all, we can't prove that there the gap is not made up entirely by backalley abortion industry in these low-abortion states. And causation itself is difficult to prove.