Nothing Says "Follow Your Heart" Like A Degree in Business
Blunt Object points to, and Tod and Jason comment on, Alex Tabarrok's post with regard to new college graduates choosing fluffy liberal arts majors rather than tough STEM majors. The problem is that his graphs are grossly misleading. Whether he was choosing the majors he did to illustrate a point or he was cherry-picking data to make it seem like everybody and their brother is getting a worthless degree, I do not know. But when he asks "If students aren't studying science, technology, engineering and math, what are they studying?" he is being obtuse when he suggests it's visual arts rather than the overwhelmingly obvious answer: business. He leaves it out entirely, leaving one with the impression that the data he points to is representative of something more than it is. Here is a crude pie chart of the study areas he's showing divided by "good" majors (blue) and "bad" majors (purple):
A less selective data set would be to look at the top ten areas of study overall. As it happens, I recently read an article on business colleges that listed just that. Below is a crude pie chart with a huge beige slice. The beige slice represents degrees in business, health professions, and education.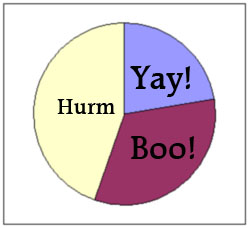 I would personally consider these to be "good" degrees in that they are either likely to be required (health, education) or they are sold on the basis of economic benefit (business) rather than frivolity. It really changes the perspective, to me. People don't major in business for the fun of it. Maybe they should major in something else, but that's different than what Tabarrok is suggesting.
Business is not only #1, but it's twice as large as #2 (History and Social Sciences, which I took the liberty in putting in the "bad majors" category).
This isn't to say that the tidbit about visual and performing arts and its astonishing growth isn't interesting, but it's not necessarily indicative of the shift.
Now, the one thing I cannot find is data on whether business majors have expanded the way that visual and performing arts majors have. I'd welcome the data if someone else wants to track it down, but I would be willing to bet it has. As more and more people cite economic advancement as their reason for getting a degree, "business" comes to mind. It's also the case that business, as the Chronicle of Higher Ed degree points out, is a profit center for universities and often requires less work on the part of the student.
A little anecdata to tie some of these things together. My college roommate started off as a physics major. He ended up as a business major. In fact, most of the people I knew in college who started with a hard science major ended up doing something else. Because… well… some people aren't made to be STEM majors! Not because they are lazy (though sometimes student-life balance inadvertently plays a role), but because there are some things that are difficult enough that if you don't love it, you won't make it. I got by on an industrial technology degree that was part business and part tech on the strength of the former and stellar grades in my liberal arts classes.